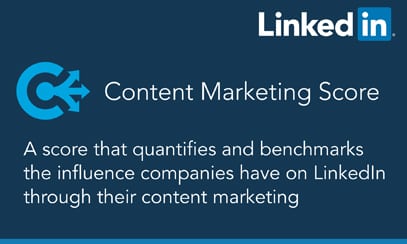 LinkedIn has started to look more and more like a publisher lately. The social network has been offering content marketing services for about a year now, and this week it announced that it will start assigning scores to gauge the effectiveness of posts including employees posts, posts on company pages and groups, posts on LinkedIn's publishing program, and "sponsored updates" ads that appear in users' streams.
These scores look to provide some sort of measurement for the effectiveness of content marketing efforts on the social network, spurring further spending.
According to AdvertisingAge, the scores will be calculated by dividing the number of LinkedIn users who have engaged with a brand's content in the past month by the target audience of users who have been active in that monthly period. The number is then multiplied by 1 million. Brands will also receive an overall score showing how their efforts are doing when compared with competitors.
For now, these insights will only be available to brands with a LinkedIn account representative.
In addition to the new content marketing score, LinkedIn is also starting to offer insights to advertisers into topics that are trending on the network—specifically which articles are being shared by target audiences.
The new information being provided to advertisers shows the social network's strategy moving forward is squarely aimed at being a publisher—and a useful one at that. How will your company make use of LinkedIn's new measurement features?
Follow Brian Greene: @bwilliamgreene