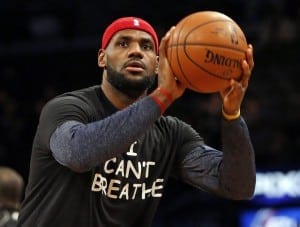 LeBron James is putting on a clinic. But this has nothing to do with his feats on the basketball court. By wearing a "I Can't Breathe" t-shirt last night before the start of the Cleveland Cavaliers game against the Brooklyn Nets—to show support for the family of Eric Garner—James has taken another step toward fully restoring his image as a global brand.
After "The Decision" (to join the Miami Heat) in 2010, James was derided for leaving his hometown and taking "his talents" to South Beach. It took him a few years to live that down. But during his tenure in Miami, James displayed a growing maturity both on and off the court and became known for his philanthropic efforts.
Then, earlier this year he won kudos from communicators on how he handled his move back to Cleveland—not with another broadcast TV special and a lot of fanfare, but a beautifully written piece that ran in Sports Illustrated explaining why it was important for him to return to the Cavs.
By wearing a "I Can't Breathe" t-shirt, James is taking a stand on a difficult issue.
In recent weeks he has also spoken out about the deaths of Michael Brown in Ferguson, Missouri, and Tamir Rice in Cleveland. Like Garner, Brown and Rice were both African-American males who died following a confrontation with a police officer.
"It's not a Cavs thing," James said before the game, about the t-shirt "It's a worldly thing."
James' move also points to the increasing clout of social media—to drive action and bolster communities. "The power of social media," James said.
According to ESPN, James told reporters on Sunday he was "looking for" a t-shirt like the one Chicago Bulls star Derrick Rose wore. Nets guard Jarrett Jack heard James' comments and supplied the shirts for players on both teams to wear.
Several players on both the Cleveland Cavaliers and Brooklyn Nets, including Kevin Garnett, Kyrie Irving and Deron Williams, also wore the t-shirt.
Asked about the shirt, James said: "It's just for us to make a statement to understand what we're going through as a society. I've been quoted over and over about what's going on as far as it's more of a notion to the family, more than anything. Obviously, as a society we have to do better. We have to be better for one another. It doesn't matter what race you are."
Surely, James was well aware that Prince William and his wife, Kate, and NBA Commissioner Adam Silver were in the house. James not only showed a flair for getting a message out, but knowing his audience, as well.  Those are two areas in which PR pros need to constantly excel. Otherwise, the game is lost before it even begins.
Follow Matthew Schwartz on Twitter: @mpsjourno1