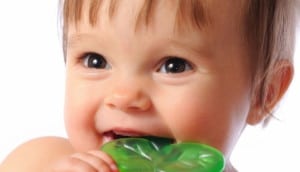 It's been a rough Monday so far for the makers and marketers of laundry detergent. This morning the journal Pediatrics published a study, using data from the National Poison Data System, about the dangers of exposure to laundry detergent pods among children under 6. The authors conclude that laundry detergent pods pose a serious poisoning risk to children, mostly from ingestion. More than 17,000 children younger than 6 were exposed to laundry detergent pods in 2012-2013. Of those, 4.4% were hospitalized, and 7.5% experienced a moderate or major medical outcome, including one death.
"The colorful, candylike designs of the products may have contributed to a recent phenomenon involving young children gaining access to the detergent pods and ingesting them or bursting them open, exposing their skin or eyes to the detergent chemicals," the study's authors write.
The publication of the study has led to colorful, candylike coverage from Reuters, NBC's Today show, USA Today, CBS News, ABC News, Business Insider, The Globe and Mail, NPR and the Boston Herald. Twitter has some colorful commentary of its own, with tweeters sharing images of laundry detergent packaging, and writing, for instance, "The Today show is about to do a segment on the dangers of those Tide Pods right now. The detergent tablet that almost killed my son! Tune in...He bit into one and bc it's under so much pressure it shot down his throat. He had to be resuscitated...GET RID OF THEM! They look too much like candy and they don't have proper labeling on the back! Kids have died from these."
A counterpoint from another tweeter: "It's not the responsibility for @tide to make their detergent safer to eat. It's on the parents who leave it where their children get it."
The Pediatrics study's recommendations cover all these bases: "This nationwide study underscores the need for increased efforts to prevent exposure of young children to these products, which may include improvements in product packaging and labeling, development of a voluntary product safety standard and public education. Product constituent reformulation is another potential strategy to mitigate the severity of clinical effects of laundry detergent pod exposure."
Debates about responsibility are beside the point right now for the laundry detergent manufacturers, and the communicators they employ. Before a groundswell of public opinion rises demanding that the products be taken off the shelves, real plans to reconsider packaging and labeling will have to be announced—and soon. Perhaps even before this Monday's spin cycle winds down.
Follow Steve Goldstein: @SGoldsteinAI