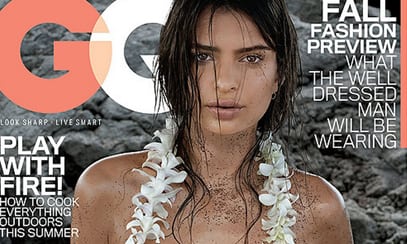 When you think of Lands' End, you probably think of fleece, Oxford dress shirts, polos and kids' school clothing. Chances are you don't think of Emily Ratajkowski, the Sports Illustrated swimsuit model and actress who got a lot of attention after appearing topless in Robin Thicke's R-rated "Blurred Lines" music video.
Thanks to a deal struck between Lands' End and Condé Nast, loyal Lands' End customers were treated recently to a free copy of the July issue of GQ—an issue which features Ratajkowski on the cover wearing only a lei.
The racy GQ cover didn't play well with Lands' End more conservative customers, who took to the company's Facebook page to express their displeasure. "I ordered Christian private school children's uniforms from your company and you sold my home address to a magazine company that peddles in soft porn for men???" one customer wrote, according to the New York Times.
"I am appalled that Lands' End—which I have always thought of as a 'wholesome,' family-oriented company—would be the one to expose my son to pornography!" wrote another angry customer.
On Wednesday, the negative press prompted Edgar Huber, chief executive of Lands' End, to apologize to customers via e-mail. "I would like to start by extending my most sincere apologies...We are aware that you have received or will be receiving shortly the July issue of GQ magazine with a suggestive cover," he wrote. "There are simply no excuses; this was a mistake."
The idea behind the partnership was to reward Lands' End customers with magazines that highlighted fashion and lifestyle and, of course, to get GQ advertisers in front of Lands' End customers. While a gift is hardly something to complain about, in this case it backfired badly, displaying either a lack of understanding of the Lands' End audience or a lack of proper quality control checks—or both.
Follow Brian Greene on Twitter: @bwilliamgreene