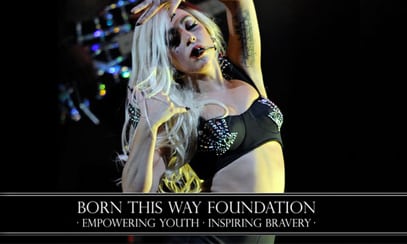 Lady Gaga and her Born This Way Foundation are catching some heat after Roger Friedman picked through recently disclosed tax documents in an article for Showbiz 411. According to the article, the Born This Way Foundation doled out excessive amounts of the $2.6 million it took in through donations for items like strategic consulting, stage productions and social media. Of particular note for PR professionals: $78,000 went to "publicity."
Of all the money the foundation took in and spent, it appears that only $5,000 of it went to "grants to organizations or individuals."
The foundation—whose website states that its mission is "creating a safe community that helps connect young people with the skills and opportunities they need to build a kinder, braver world"—lists Lady Gaga's mother, Cynthia Germanotta, as its president, and she hit back at claims of impropriety in The Huffington Post.
"Born This Way Foundation's work has focused heavily on providing information on empowerment through its website, raising awareness of the importance of being kind to others through public relations and social media," Germanotta writes. "Every dollar spent across these categories, including the legal fees towards the safe and effective implementation of each initiative, directly serves Born This Way Foundation's core mission of empowering youth."
Lady Gaga also responded in a statement on her website, saying that her charity does not "raise money and allocate the funds to other charities for them to do the work. We do the work."
Questions of the Foundation's earnestness aside, the controversy surrounding its expenses paints public relations as an extravagant expense despite Lady Gaga and her mother identifying it as a central component of their mission. "It's unclear," Friedman writes in the Showbix 411 piece, "That anyone was really helped by the Born this Way Foundation other than lawyers, consultants, publicists and travel agents."
The episode provide a cautionary tale for communicators working for nonprofit companies. Rather than leave any possible mystery as to how the money is collected and distributed, nonprofits have to be transparent with stakeholders from the get-go.
Without being completely upfront as to how an organization specifically operates, nonprofits set themselves up for the kind of PR heartache now being incurred by Lady Gaga.
Follow Brian Greene on Twitter: @bwilliamgreene