New Hope Natural Media wanted a change of pace. Its national product expos needed an injection of energy that its PR agency wasn't providing. "We had worked with an agency for a long time, one that was well-known in the space" said Adam Andersen, group show director of Natural Products Expo West and Natural Products Expo East, which is part of New Hope Natural Media. He declined to name the agency. "But we wanted some fresh perspective and new ideas, and those are sometimes hard to get from an agency that has been doing this for a long time."
That's when Heather Smith, CEO and founder of Lacquer Inc., stepped in. A former employee of New Hope Natural Media, she knew the business inside-out and was passionate about not only media relations strategy but the marketplace, as well.
She came up with the following five objectives for giving the Natural Product Expos a PR facelift.
1. Attract high-level B2B and consumer media to Natural Products Expo East + West.
2. Drive exhibitor commitments and attendance by garnering top media.
3. Create media opportunities for show exhibitors and sponsors.
4. Increase local media placement to boost local and regional retail attendance.
5. Source interview opportunities for pre show and post show editorial, across B2B trade publications.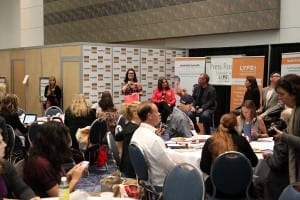 A DIFFERENT ANIMAL
Trade show PR is a horse of a different color. "For lack of a better term, it's the middle man of PR," Smith said.
Typically in communications, you have a client who wants to get a product into the hands of a certain audience, Smith said. However, with trade show PR you're trying to entice a brand to attend your event in order to get its product into the hands of a certain audience.
Sound confusing? It is. And it requires a specific skillset to pull off. "Heather makes a difference because she gets to know each of our exhibitors personally. It really sets her apart." Andersen said. "You don't always get that with your PR agency; we certainly didn't get that before. She doesn't say, 'Here are the deliverables for you,' she goes one step ahead and says, 'Here, I'm delivering for your clients.'"
Smith provided a more specific example. "We have exhibitors that are, for example, organic almond butter or the latest natural snacks," she said. "A boon for them would be to see the producer of Dr. Oz watching their presentation or the food editor for Opera magazine sampling their product."
THE INFLUENCERS
Smith's job was getting those influencers to the Natural Product Expos. The key to her success was an understanding that they had an audience to answer to: consumers.
"The approach I took was: 'There is a huge trade show going on, and we're going to provide you with a sneak peak of the hottest new products that you can then pass on to your viewers,'" she said. "I had great success with that angle."
Smith used the following tactics to generate interest among the media:
1. Create meaningful connections and relationships. Smith was a constant presence at the event, meeting with each member of the media at a show and connecting with them pre show.
2. Do due diligence. Smith connected with exhibitors and sponsors, calling in their product launches at least two months in advance. This enabled her to familiarize herself with the trade show floor and connect with media pre show—and the moment the show floor opens.
The media want to know where to go first, about the new brand and product launches and new trends. Smith emphasized that this tactic led to her forming the most meaningful connections rather than just letting media representatives "walk the show floor" without any direction.
3. B2B doesn't eliminate B2C. Smith stayed focused on the idea that a B2B show can have a very wide range of consumer exposure. This harkens back to Smith's media outreach strategy, which was all about how the expo provided producers and editors value for their audience.
4. Tailored pitches. Smith researched specific journalists and media with various bailiwicks who would want to come to the show, but may not have heard of it, even from an outside-the-box concept. "Why would a tech writer for Entrepreneur want to come to a 'natural food show?" Smith said.
He added, "Because some of these brands are leading the way with their packaging and product engagement in social and digital formats to consumers."
5. Being available online—and off. And showing brands how to do the same. "I fully embrace Facebook and Twitter connections," Smith said, "and people know where to find me in those social places. That said, I really value in-person connections."
Smith created a dossier for exhibitors, which was full of tips to connect with media before the expo, during and post show.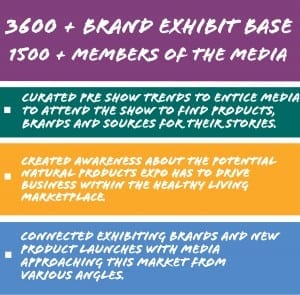 "A lot of our exhibitors are entrepreneurial brands that are extremely passionate, putting everything on the line to exhibit at our trade shows," Andersen said. "Heather makes a difference because she gets to know them personally. It really sets her apart. She knows just the editor in mind who's looking for a specific product. "
ZEROING IN
"Heather did a fantastic job of really adding value for our exhibitors," Andersen said. "She zeroed-in on all these companies that are coming into a very competitive marketplace, and figured out how she could get them exposure to the regional audience and media.
She also created a unique program that also helped us achieve new revenue goals."
Andersen also stressed that the singular focus Smith took from a media standpoint created a multitude of benefits for New Hope Natural Media, as well as the exhibitors at the trade shows.
Smith recalled a specific moment when she knew her methods were working. It was when a new exhibitor's product was showcased in O Magazine, four months after the expo, as one of Oprah's Favorite things.
"The O Magazine food editor had come to the expo and the specific product featured in the magazine was in the Natural Products Expo press room at a gifting suite we created," Smith said.
Signed, sealed, delivered from the brand into the hands of target consumers, courtesy of New Hope Natural Media.
Some of the results of Lacquer Inc.'s work include the following:
• Quickly sold out more than 50 slots in 2012 and delivered more than $50,000 in revenue.
• Sold out the 2013 March event and brought in more than $100,000 in revenue.
• Earned editorial placements for brands at the expo in outlets such as ABC 7 Los Angeles, Everyday with Rachel Ray, FOX 45 Good Day Maryland, The Huffington Post, The Los Angeles Times, The New York Post, The New York Daily News and WBAL NBC 11, among others.
• Created a pressroom sponsorship, which brought in more than $10,000 additional revenue.
"Heather has spoken to an audience of media that wouldn't have known about us on their own," Andersen said. "There are a lot of different ways that she's built this program with us to make it a success for all of us. It's been a win-win for everyone." PRN
3 Essential Media Relations Tips for Industry Event PR
1. Know the event before it happens. Sure, you live and breathe the event's messaging, the marketing points and overall 'who will be there.' That said, if you want to be a true, trusted asset to the media you are hoping to draw for your event, spend the time pre show (1-3 months out) to talk to exhibitors or sponsors, call in their product and get the releases on what they are launching. Knowing these specifics will help you hook journalists to attend instead of chalk your event up to one they 'pass' on.
2. At the event, engage the media. Ask what stories they are working on. Discuss the new trends and launches you have seen. Offer press tours, even just personally hitting up one to two different brands together will get them started as to the best way to cover the show. Journalists will see you as a resource, and your exhibitors and sponsors will love you for personally brining the media to them.
3. Get the best coverage out of your event. Trade shows, conferences or industry events are typically a few days, so getting press even after the first day can build the buzz for the rest of the event—and even draw last minute attendees. Overall, post-event coverage is what the exhibitors and sponsors of your event want. Following up on all those press tours and media at your event should generate some great stories, coming from various journalistic angles, on what is hot, new and trending from your show.
CONTACT:
Heather Smith, heather@lacquerinc.com.
Heather Smith is CEO and founder of Lacquer Inc.
This article appeared in the October 14 issue of PR News. Subscribe to PR News today to receive weekly comprehensive coverage of the most fundamental PR topics from visual storytelling to crisis management to media training.