Talk about gaining attention in a crowded market. Have you ever tried publicizing a new restaurant in a food-crazy city? In late 2014, Good Stuff Eatery approached Chicago-based PR agency Henson Consulting (HC) to tout the opening of its newest location in Chicago and maximize media opportunities for celebrity chef Spike Mendelsohn and his family.
HC used its strong relationships with media contacts and influencers to drive anticipation leading up to the public opening of Good Stuff Eatery. The agency also was able to leverage Mendelsohn's celebrity appeal—he's a former "Top Chef" finalist—to secure media interviews while he was in town promoting the opening.
"Opening a restaurant in a new market is hard enough, let alone Chicago, where there are already so many great restaurants—not to mention burger places," Mendelsohn said. "This also was our first venue outside of the East Coast, so it was a whole different ballgame on our end."
To build widespread attention, HC coordinated a series of exclusive stories to run in the weeks leading up to the opening. The team developed multiple story angles to reach a variety of media outlets, including one on franchisees that ran in Crain's Chicago Business, a chef profile and lifestyle cover story that appeared in Sun-Times Splash, and a "first-look" of the restaurant piece that ran in UrbanDaddy Chicago.
To maintain media coverage after the initial series of exclusive interviews, HC positioned Mendelsohn on a series of broadcast segments, including FOX Good Day Chicago, WGN-TV, WGN Radio, as well as interviews at the restaurant with web sites Eater Chicago, Tasting Table and Thrillist Chicago.
THE CHALLENGES
Publicity for the restaurant industry requires agile thinking and flexibility. Even the best laid plans and strategies will have to be altered as restaurants notoriously experience construction delays, delivery issues and menu redevelopment, up until right before the opening.
Timing was one of the biggest challenges for the opening of Good Stuff Eatery—there were four different previously scheduled opening dates.
Of course, restaurant owners want to open as soon as possible, but multiple factors and various setbacks led the HC team to recommend pushing back the date of the opening a few times.
Every player involved in the opening needed to be confident about each aspect of the restaurant, such as the physical status of the space, the menu items and their quality, and the customer experience soup-to-nuts.
Good Stuff Eatery's in Chicago is located in the Loop, where many people work, so the location was incorporated into the event starting times and centered around happy hour. While a weeknight party beginning at 8 p.m. might be an effective strategy in the New York City market, Chicago tends to start things early. The start time of the grand opening event for Good Stuff Eatery was 5:30 p.m.
THE EXECUTION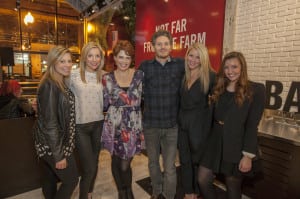 The day before the grand opening, HC hosted two events. First, a private media lunch was held, then a VIP celebration was mounted to create widespread awareness.
At the lunch, top-tier media outlets were invited to experience the restaurant, as well as offered one-on-one interviews with Mendelsohn and Chicago Good Stuff Eatery franchisees Brian Dralle and Glen Steinberg, which resulted in numerous feature stories on the day of the opening.
Second, on the evening prior to the grand opening, HC executed a high-profile VIP launch party with local tastemakers and influencers. Mendelsohn and the Good Stuff Eatery team welcomed the media and VIPs and handed out branded T-shirts and signed cookbooks.
As the room filled with more than 200 of Chicago's movers and shakers, including Chef Jaimie Laurita and "Chicago PD" star Marina Squerciati, the Good Stuff Eatery team kicked-off the proceedings with a champagne toast. Guests then enjoyed sampling different menu items, which were passed around the event while sounds from a Chicago-area DJ filled the newest restaurant on Wabash Street.
On the first day that the restaurant was open to the public, HC spread the word for opening day giveaways, including free Mini-Moos (milkshakes) each month for one year for the first 50 guests, which resulted in consumers lining up outside the restaurant beginning at 9:00 a.m.
On opening day, guests had the opportunity to try different menu items and learn more about the farm-fresh burger concept while the HC team coordinated a WGN lunch-break on air segment for Chef Mendelsohn to keep the conversation going and invite everyone in the Windy City out to try Good Stuff Eatery.
THE RESULTS
Including the series of media exclusives prior to the grand opening of Good Stuff Eatery, HC generated more than 53.9 million impressions across top-tier national and local broadcast, print and online outlets, including: Us Weekly, WGN-TV, FOX, Good Day Chicago, Chicago, Chicago Sun-Times, Chicago Tribune, Eater Chicago, Tasting Table, Zagat Chicago, Thrillist Chicago and UrbanDaddy Chicago, among other outlets.
Since the grand opening, HC has continued to generate widespread attention for Good Stuff Eatery and Spike Mendelsohn, with regular placements in local media, including the Chicago Tribune, RedEye, Eater Chicago and People.
One of the most important things to understand when working on the opening of a restaurant is that things will change. This forces all parties to be flexible. Once a target date for opening is in place, event planning, media outreach and strategy can take shape around that date. Still, as this experience showed, it's only a target.
Another critical lesson is understanding that opening a restaurant is a team sport. Coordinating and communicating with all players are essential parts of restaurant industry publicity. In the case of Good Stuff Eatery, the HC team worked directly with franchisees Brian Dralle and Glen Steinberg, as well as Chef Mendelsohn and the corporate team. Every element of our plans was briefed to the entire Good Stuff Eatery team. Certainly doing things this way took more time, yet ultimately it saved time since all involved knew what to expect and could plan accordingly.
CONTACT: Julie Hamm, account manager at Henson Consulting, wrote this article. She can be reached at julie@hensonconsulting.com
5 Tips for a tasty restaurant opening
Opening a restaurant can be glamorous and exciting. Below are five tips to help you make sure your next restaurant opening is successful.
1. Key messaging sets the stage. The industry is tough, and restaurants are notorious for having their opening dates pushed back for several reasons. When teasing a concept and creating excitement leading up to an opening, it's important to provide leeway with a projected date. Use general terms, such as a season (spring or fall), as opposed to an exact date. Maintain a positive image and don't lose traction with public anticipation or when media reps might plan to cover the opening.
2. Create consumer excitemen t. Give consumers something to look forward to. Restaurant openings are exciting, but to create buzz and loyalty for a brand, give people a reason to go out of their way to experience it. At Good Stuff Eatery, the first 50 guests received one free milkshake each month for a year. People were lined up around the block hours before the restaurant opened, and people heard about it through the media!
3. Timing is everything. In order to maximize buzz and create hype for a brand, be strategic about when you distribute a press release. When a press release announcement is distributed before an opening, you have to allow enough time for the story/announcement to run to create consumer awareness, but not too much time where the message gets lost in the fray.
4. Relationships are fundamental. From pitching media to securing guest attendees at an opening party, relationships are essential. We pride ourselves on having strong relationships across the board, and credit much of that to kindness. Saying please and thank you, and being genuine shouldn't be underestimated.
5. Passion makes the world go 'round. At the end of the day, we believe in the clients we work with and align with brands we care about. Being passionate about the brand's story you're telling is key to telling it effectively.
Anna Treiber, account manager at Henson Consulting, wrote this sidebar. She can be reached at Anna@hensonconsulting.com 
This article originally appeared in the May 18, 2015 issue of PR News. Read more subscriber-only content by becoming a PR News subscriber today.