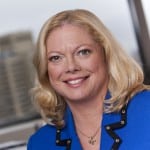 When PR legitimately integrates with other marketing disciplines—not to mention the rest of the organization, such as HR and finance—the company's message becomes more cohesive and the odds increase that the C-suite will recognize the value of communications.
Jamie DePeau, CMO of Lincoln Financial Group, in partnership with colleagues, has played a significant role in helping to dismantle the company's silos. Before the silos are broken down, however, a company needs to build a strong foundation.
"For us, integration is rooted first and foremost in philosophy: a philosophy that aligns PR and marketing activities to business goals," she said. "That philosophy, as well as our belief that most effective brands are built from the inside out, has resulted in a notable and successful relationship forged with HR."
Since 2011, when Lincoln Financial rolled out a new brand platform, PR and marketing have worked closely with HR to align communications with the brand, most notably in its messages, programs and training.
The effort features three phases:
• When launching programs, inform employees about it and get them excited. Examples include: a CEO message to all employees; events at all locations to unveil new advertisements, videos and contests.
• Alignment. Review all HR materials and ensure alignment of messages and images with the tone of the new platform.
• Experience. Work with HR and colleagues throughout the company to ensure the experience a customer has with Lincoln is consistent across the brand.
Examples of items to consider include employee training, employee job aids, new transactional communications and forms and title changes for some front-line employees.
Asked about the challenges in implementing these programs, DePeau said: "We are a highly decentralized organization so, from time to time, that structure can challenge the successful implementation of integrated programs. But we never lose sight of the value and benefits that collaboration provides us and, as a result, we convert that challenge into opportunity."
She added that a flatter organization has fostered deeper partnerships across the enterprise, and has resulted in effective programs related to social media, media relations and advertising.
CONTACT:
Jamie DePeau, jamie.depeau@lfg.com
This article originally appeared in the February 16, 2015 issue of PR News. Read more subscriber-only content by becoming a PR News subscriber today.