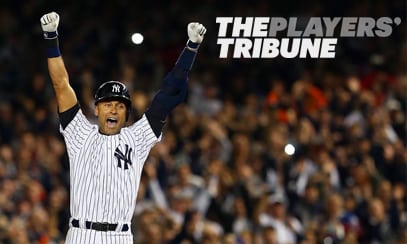 You can be forgiven if you're a little sick of Derek Jeter after a season filled with stories of the famous shortstop being showered with praise throughout the country—even at Fenway. But, only a few days after hanging up his cleats, the Yankee captain continues to make news, only this time it's not about baseball. It's about publishing.
On Wednesday, Jeter launched "The Players' Tribune," a digital media platform which, the site says, "aims to provide unique insight into the daily sports conversation and to publish first-person stories directly from athletes."
Jeter is listed as the platform's Founding Publisher. In an opening letter the future Hall-of-Famer writes about how while he was guarded as a player, fans deserve more than "no comment" and "I don't know" out of their beloved sports heroes.
The Players' Tribune, which promises to reveal its next editor on Thursday, is trying to carve an interesting new niche in sports media. Players infrequently write in the first person to fans, but when they do—as in the case of Lebron James' revelation this summer in Sports Illustrated that he will be returning to Cleveland in 2014—people inhale it.
Even in Lebron's case, the message is filtered through a traditional outlet (with the help of a ghost writer, of course). Jeter's new venture looks to change that, offering fans a unique view inside the mind of athletes in an environment that athletes control.
For professional communicators, especially those who work in the sports world, The Players' Tribune offers yet another example of how the media are becoming more siloed and, at the same time, more open and direct.
Follow Brian Greene on Twitter: @bwilliamgreene