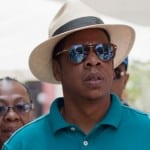 Beyonce's and Jay-Z's trip to Havana, Cuba to celebrate their fifth wedding anniversary attracted the expected mob of fans and photographers. However, thanks to an embargo that makes it illegal for U.S. citizens to visit Cuba for mere tourism, the trip also sparked criticism from two members of Congress.
In a letter to the Treasury Department (which issues licenses to Cuba for academic, religious, journalistic or cultural exchanges) two Florida Republicans, Ileana Ros-Lehtinen and Mario Diaz-Balart, demanded to know what purpose Jay-Z and Beyonce cited to make their trip, according to The Washington Post.
The congressional representatives said that "the restrictions on tourism travel are common-sense measures meant to prevent U.S. dollars from supporting a murderous regime," the Post reported. Meanwhile, Florida Senator Marco Rubio said in a statement that "the Obama Administration should explain exactly how trips like these comply with U.S. law and regulations governing travel to Cuba."
In response to the criticism Jay-Z on Thursday released a new song, titled "Open Letter," that expresses his disgust at the political nitpicking about his trip. In doing so, Jay-Z took control of the situation and turned the entire episode into a branding opportunity for his (growing) business empire, which includes music, clothing apparel and a recently launched sports agency.
Jay-Z's cagey response to his critics provides a valuable lesson for communicators. PR pros should note that, as a bona fide brand himself, Jay-Z responded to his critics through the medium that made him famous. A written statement from Jay-Z wouldn't have had nearly the impact—or media hook—that his new song had. And if Jay-Z decided to go on a cable network to defend himself that would be just more fuel for his critics.
When it comes to getting your messaging across and neutraliziing your critics, play to your PR strengths and tap into the medium that best suits your brand. A crisis, even one that is small-bore, is a terrible thing to waste.
Follow Bill Miltenberg: @bmiltenberg