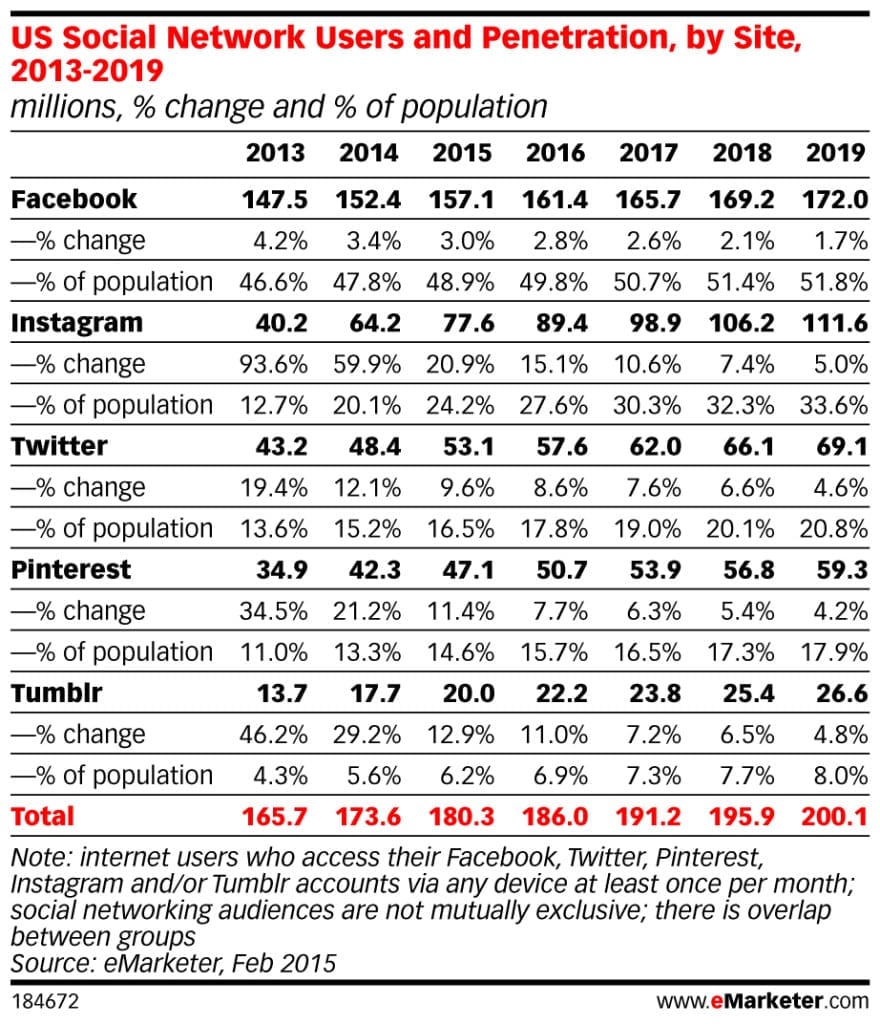 Twitter, move over. Instagram, the photo- and video-sharing social network, is going gangbusters. Due to faster-than-expected growth in users in 2014, up 60 percent, Instagram surpassed Twitter to become the second-largest social network in the U.S. last year, eMarketer s aid earlier this month. Twitter's U.S. user base grew 12% in 2014, to 48.4 million users, while Instagram's user base grew to 64.2 million and is expected to top 100 million by 2018.
Instagram's rising popularity in the social networking sphere comes as PR pros are starting to make the platform a more integral aspect of their online communications. Brands post an average of 9.3 times per week to Instagram, up from 7.5 posts in 2014, according to a new report by research firm L2. The study took the pulse of 250 of the world's top brands.
While an estimated 3 million U.S. teens abandoned Facebook between 2011 and 2014, the same demographic now cites Instagram as "the most important" social network, the report says.
Stumbling blocks remain, though. Posting on Instagram is a manual process; there is no auto scheduling, as of yet. And Instagram's metrics are not particularly robust, sources said.
There's also concern about what Facebook —which in 2012 bought Instagram for $1 billion—might do with Instagram.
Recall that Facebook like Instagram started as a platform to share content and cultivate communities, but morphed into a pay-for-play model.
Nevertheless, brands continue to dial up their presence on Instagram and look for the most effective ways to build audience.
"For us it's a great investment," said Kristin Montalbano, director of digital publicity and media relations at National Geographic Channel, which in the last three years has launched two Instagram handles: @natgeochannel and @natgeowild. The number of followers for @natgeochannel grew 65 percent this year, to 171,000, compared with 2014.
Unlike Twitter and, to a large degree, Facebook, part of Instagram's appeal is that it is rooted in emotion. "You can connect with people in a far deeper way than other social mediums," Montalbano said. "As quickly as Instagram has grown, it still feels a lot more like a community."
In 2014, for example, @natgeochannel debuted #NgcOnAssignment. Each week the channel promotes a different topic, say, stormy weather, and asks followers to post content based on that subject.
During Nat Geo WILD's "Big Cat Week" late last year, the channel invited three Instagram users to go behind-the-scenes of the premiere special, Man v. Lion.
Montalbano, who posts content roughly three times daily on each handle, said these features serve a dual purpose: they highlight the brand's followers and fill a content need.
She offers the following tips to use Instagram most effectively:
▶ Keep up with the news and trends as a way to spark conversation through visual content. @NatGeoWILD's take on the "White and Gold or Blue and Black Dress" story—a photo of a #whiteandgold zebra—was its eighth most-liked photo ever, and received the highest number of comments, by a landslide.
▶ Heavily engage your followers. Don't post content for the sake of doing so. Talk to users regularly about what they like (and don't like) about your Instagram account(s).
▶ Think of your brand as a curator. Don't feel as if you have to post every last piece of your visual content on Instagram. Pay attention to what works and what's most visually appealing to followers.
Instagram also works well for brands that want to drive two-way conversations and nurture relationships.
"We've leveraged the heavy use of hashtags on the site to identify Toyota-specific influencers who are shooting incredible photography," said Steve Curtis, VP, corporate communications, Toyota Motor Sales, U.S.A. Inc., in an email. "We've been able to work with some of these users and share their work while helping build their following."
The technology and news site TechCrunch started to increase its Instagram effort last summer. It has since seen its presence on the platform take off, according to Travis Bernard, senior social manager.
"There are clearly a lot of users and a lot of users to be monetized," said Bernard, who posts content on TechCrunch's Instagram handle once or twice a day. "You don't want to flood your followers," he said.
TechCrunch posts promos for its events, and teases feature stories several weeks before they run on the brand's website. "The value-add is it's telling a story in a new and different way," Bernard said.
Similar to Toyota, TechCrunch emphasizes hashtags. "Unless you are following a brand, it's not always easy to find new content," Bernard said. "Adding hashtags at the end of a post (like category tags on a blog) can help get your content in front of new users. I recommend adding at least five hashtags to every post."
CONTACT:
Travis Bernard, travis@techcrunch.com; Kristin Montalbano, kmontalbano@natgeotv.com
This article originally appeared in the March 16, 2015 issue of PR News. Read more subscriber-only content by becoming a PR News subscriber today.