To all of the PR pros that have firmly integrated Pinterest into your PR program: Instagram is now stealing Pinterest's thunder as a social outreach platform.
In ComScore's Top 50 most visited websites list for September, 2012, Instagram was 44th (26.3 million visitors) while Pinterest just cracked the list for the first time at No. 50 (25.3 million).
For those of you not in the know, Instagram is the mobile photo editing and sharing app that was acquired by Facebook in April. "Sharing" is the key word here, because while many people know that you can apply neat filters to photos in Instagram, many do not know that it's a social sharing platform as well. And that is what makes it enticing to the communications pro.
Like Pinterest, Instagram is all about visuals that pop. The app is still in its infancy and very easy to use, without all the bells and whistles of a Facebook or Twitter, which is what makes it so appealing to many. "It's really a perfect visual platform," says Chad Torbin, media relations manager at McDermott Will & Emery LLP, a top law firm in Washington D.C.
INSTAGRAM MEETS THE PRESS
Yes, that's right, a law firm. Instagram is being utilized by a variety of organizations, and in both B2B and B2C. Torbin recently completed a short, 30-day Instagram campaign around his firm opening a new office building near Capitol Hill. It sounds simple, and it was. "We wanted to showcase the neighborhood and the new building," says Torbin.
Like any good communicator, Torbin integrated Instagram with other outreach tactics, like hard hat tours of the building and traditional media pitching. The Instagram piece was designed as "30 Days of Capitol Hill," with photos chronicling the last 15 days in the old building and the first 15 in the new one. Ultimately, the Instagram effort amassed 13 followers. Not a whole lot, but because of Torbin's use of Instagram, media coverage was substantial. Consider the headline from e-newsletter Legal Bisnow: "Law Firm Construction Turns Hipster." Coverage extended to The Wall Street Journal, ABA Journal, Politico and more. In all, much more coverage was generated than an office move should get.
Torbin's Instagram Tip: Start with a short campaign, with a clear start and end date. This makes it simple and easy to track.
APPEALS TO THE YOUNG
It's true: the media appear to be enamored by Instagram. Alana Mauger, director of communications at Montgomery County Community College (campuses in Blue Bell and Pottstown, Pa.), says an unexpected benefit of the college's Instagram effort to engage students has been connecting with journalists. "Reporters, editors and photographers in our region are all on Instagram, and have started tweeting out our photos," says Mauger.
But that's not the only benefit: Instagram has proved perfect for MCCC's young audience. "We've found that students 18 to 19 are very engaged with Instagram," says Mauger. In fact, Mauger says this group uses just Instagram to communicate socially, not Facebook or Twitter. "So we're reaching students that we haven't reached before," she says.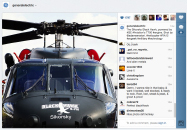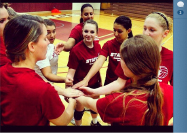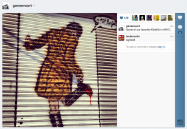 Instagram in Action: (top) GE's photos of its engines inside planes and helicopters have drawn a rabid following; (middle) the local press picked up this shot of Montgomery County Community College's volleyball team, which resulted in coverage; (bottom) the Gansevoort Hotel Group posts cool photos of its hotels and their neighborhoods—this one was taken in NYC's Meatpacking District.
Mauger's Instagram Tip: Engage in genuine dialog— interacting with other Instagram users is just as important as sharing your own pictures.
FLARE FOR THE VISUAL
Sai De Silva, founder of jewelry accessories site RequiredFlare.com, has a target audience of girls on a budget, and because she's on a budget De Silva relies almost exclusively on social media to generate sales. When Instagram was in its infancy, De Silva traded her Blackerry for an iPhone and began posting photos of her jewelry.
Since then she's grown a following of 40,000 and can attribute sales directly to Instagram. "I'll take pictures of an item, add the price (usually $20-$30), post it and the product will sell out within the day," says De Silva. In addition, the platform is great customer feedback tool, as she takes photos of accessories she's considering for her site and asks her followers for their opinions.
De Silva's Instagram Tip: Team with bloggers and other influencers that also use Instagram for promotions and contests. Leverage their followers.
INSTAGRAM ESCAPE
At the Gansevoort Hotel Group, Douglas Brundage, the Group's chief digital strategist, uses Instagram to communicate with guests and fans. Brundage uploads mostly user-generated images (instead of the hotel's stock photography), offering followers an escape, so to speak; a look at the rooftop deck at the New York City property or the sparkling pool at the Turks + Caicos property. "On Instagram, people follow brands to get insider access," says Brundage. "This way we can show off our assets in a way that's authentic."
And it appears to be working. Followers have grown to 2,722. Most photos average 50 likes, and some have gained over 200. Brundage says cross-pollination is important: He'll take followers' photos and post them on Pinterest, where they'll get shared with friends.
Brundage's Instagram Tip: If your brand demands a more professional look to its photos, try third-party editing apps like Snapseed, says Brundage.
STEAMPUNK AESTHETIC
Meanwhile, General Electric uses Instagram to showcase its historic archives, factory machinery and jet engines. "There's so much history and great visuals inside our factories—it's a kind of a cool pop-sci, almost steampunk aesthetic," says Katrina Craigwell, manager of digital marketing at GE.
A recent Instagram contest drew more than 4,000 user photos, which were then posted to Facebook, where fans voted for the finalists. Pinterest was used to showcase all the entries. The winner, Adam Sematori, was flown to Wales to photograph a GE aviation facility. Craigwell's Instagram Tip: Identify the strongest thing you have to share. "We do our best with big pieces of technology." Don't stray from your strongest offering.
Not sold on Instagram yet? Here's one more piece of advice, from Gaansvort's Brundage: Start a Instagram account today and experiment with it. "I use every tool personally before I use them for the brand," he says. "You must understand Instagram and like it to use it effectively." PRN
CONTACT:
Chad Torbin, ctorbin@mwe.com; Alana Mauger, amauger@mc3.edu; Sai De Silva, saidesilva@requiredflare.com; Douglas Brundage, douglas@gansevoorthotelgroup.com; Katrina Craigwell, katrina.craigwell@ge.com.
Follow Scott Van Camp: @svancamp01