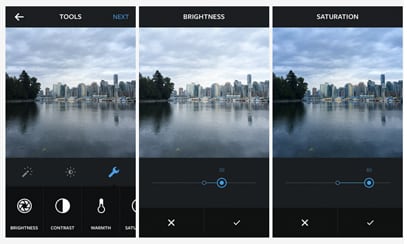 Instagram is the one of the world's fastest growing social media platforms. It's especially popular with brands that want to deliver simple visual messages to fans, building loyalty along the way. However, for all it's popularity and usefulness, Instagram's in-app photo editing features leave a lot to be desired among professionals, especially those who count themselves among the artistic set.
Beyond using the app's hallmark Poloroid-style photo filters, many users have been forced to do their photo editing elsewhere, adding an extra layer to the process of posting the perfect Instagram picture.
That changed Wednesday, as Instagram released new creative tools, including the ability to adjust brightness, contrast, saturation and warmth. These powerful new tools will enable users to meticulously customize their pictures through a set of intuitive controls.
"You take a photo to capture a moment, but often what you see in the photograph doesn't feel the same as what you remember," Instagram said in a blog post announcing the release of the new tools. "From brightening up a photo of your dinner party to better capturing the warmth of a sunset portrait, these new creative tools help you bring out and share the beauty of the moment as you remember it—right inside the same simple Instagram you already know."
In addition to the brand new features, Instagram now also enables users to customize the app's standard filters and to see before and after versions of the photos they're editing.
Instagram's new creative tools don't exactly reinvent photo editing, but they do look to change the way users' photos look on the service. Communication professionals using the app to showcase a brand or organization need to stay in the loop regarding these changes, evolving the look of their pictures to match what's happening among their users.
Follow Brian Greene: @bwilliamgreene