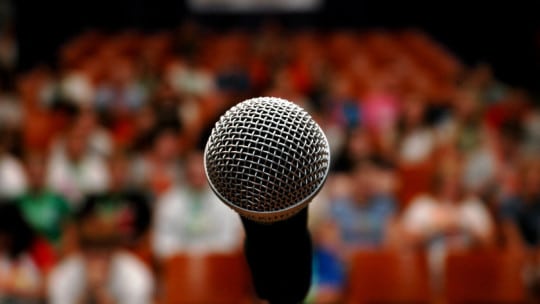 Excelling as a public speaker separates the great from the good in the workplace. Captivating listeners at conferences, client meetings and internal meetings is a skill that can be taught, but unfortunately many people are so gripped by anxiety about public speaking that they are hesitant to learn how to do it right.
If you're nervous about public speaking, you're not alone—it's so common a fear that it even has its own name: Glossophobia. A Statistic Brain survey found that 74% of adults have anxiety about speaking in public.
But help is on the way. Effective public speaking is the subject of PR News' June 23 webinar, which will feature presenters Leticia Ebb of Northrop Grumman Corp., Jonathan Rick of The Jonathan Rick Group and Dan Weckerly of the Valley Forge Tourism & Convention Board. Let's take a look at some public speaking tips culled from successful TED talks, courtesy of Shapiro Negotiations Institute.