Since 1982 Johnson & Johnson's recall of tainted Tylenol has been the quintessential example of the perfect handling of a crisis. By immediately recalling the product, regardless of fault or blame, J&J was able to restore trust in its brand in record time.
Now, three decades later, it is being held up of as the perfect example of a company incapable of doing anything right.
Unfortunately, reality certainly doesn't reflect the trustworthy company image that J&J has fostered throughout the years. Google "Johnson & Johnson" and "fines" or "fraud" and you get more than 200 million hits.
In the last three years J&J has been fined more than $1.1 billion after a jury found nearly 240,000 violations of Arkansas' Medicaid fraud law and another 4,500 violations under the state's deceptive practices act.
J&J faced another $70 million in fines for bribing European doctors and currently faces 10,000 lawsuits regarding its artificial hips that shed metal debris inside patients.
The latest episode included a recall of 280 million packages of Motrin, Tylenol and Benadryl. Other crises included selling bacteria-contaminated children's medicines.
To make matters worse, the company's rankings dropped in both the Reputation Institute's rankings and Fortune's.
The response to all of those moves has not been a change in management, but rather a change in message—a slick new ad campaign called "For all you love." Not surprisingly, all the media coverage of the new campaign brings up the old problems.
Influential marketing guru Bob Garfield excoriated the company for the campaign, saying "the company's conduct has been so repulsive it has simply lost the privilege of waxing sentimental on that theme [of love.]"
Any good PR person could tell you that it is relationships and actions—not paid ads or new messages—that will ultimately shape people's opinions of your company.
One can only assume that the PR team at J&J was either outvoted or marginalized.
Did it occur to anyone in corporate that trying to gloss over half a decade of disasters with fuzzy images of babies would only make people wonder what the company is trying to cover up?
This is a classic "Mad Men" approach to try to buy a cleaner image with a new corporate branding campaign.
Unfortunately, these days what it buys you is mad (and vocal) consumers who are increasingly skeptical of expensive campaigns and incessant "corporate speak." Consumers demand that corporations earn their trust by acting in a way they deem acceptable and responsible.
Act in any other way and they'll tell the world on Twitter. Then, when people try to find out more information, their searches will reveal all the things that your ad campaign is trying to make you forget.
All that media spending can go up in smoke (or down the drain) in the flash of a camera.
Similarly, the brands that have spent billions burnishing their image saw the value of that image go down in flames and rubble in the wake of a deadly fire at the Rana Plaza factory complex in Bangladesh.
Wal-Mart, Benetton and other brands were quick to deny involvement, hiding behind the usual legalese citing lack of knowledge of "third party suppliers" or "discontinued use of that supplier."
The reality is that if people can see your label amidst the rubble in the news, or your name on the website of the supplier, you can issue all the denials in the world and no one will believe you.
What people will believe—and what J&J seems to have forgotten—is action. Fast, immediate and provable. That's what the Canadian company behind the Joe Fresh brand, Loblaw, did.
Unlike Wal-Mart and others that shrugged and blamed the problem on local authorities, Loblaw was among the first to announce compensation for the victims, while calling for both government intervention and industry pressure to fix the problem.
Even more unusual, Loblaw didn't just issue a press release. Its Executive Chairman Galen Weston made it the centerpiece of Loblaw's annual meeting, pretty much guaranteeing media coverage and impact on all stakeholders. PRN
Johnson & Johnson

Loblaw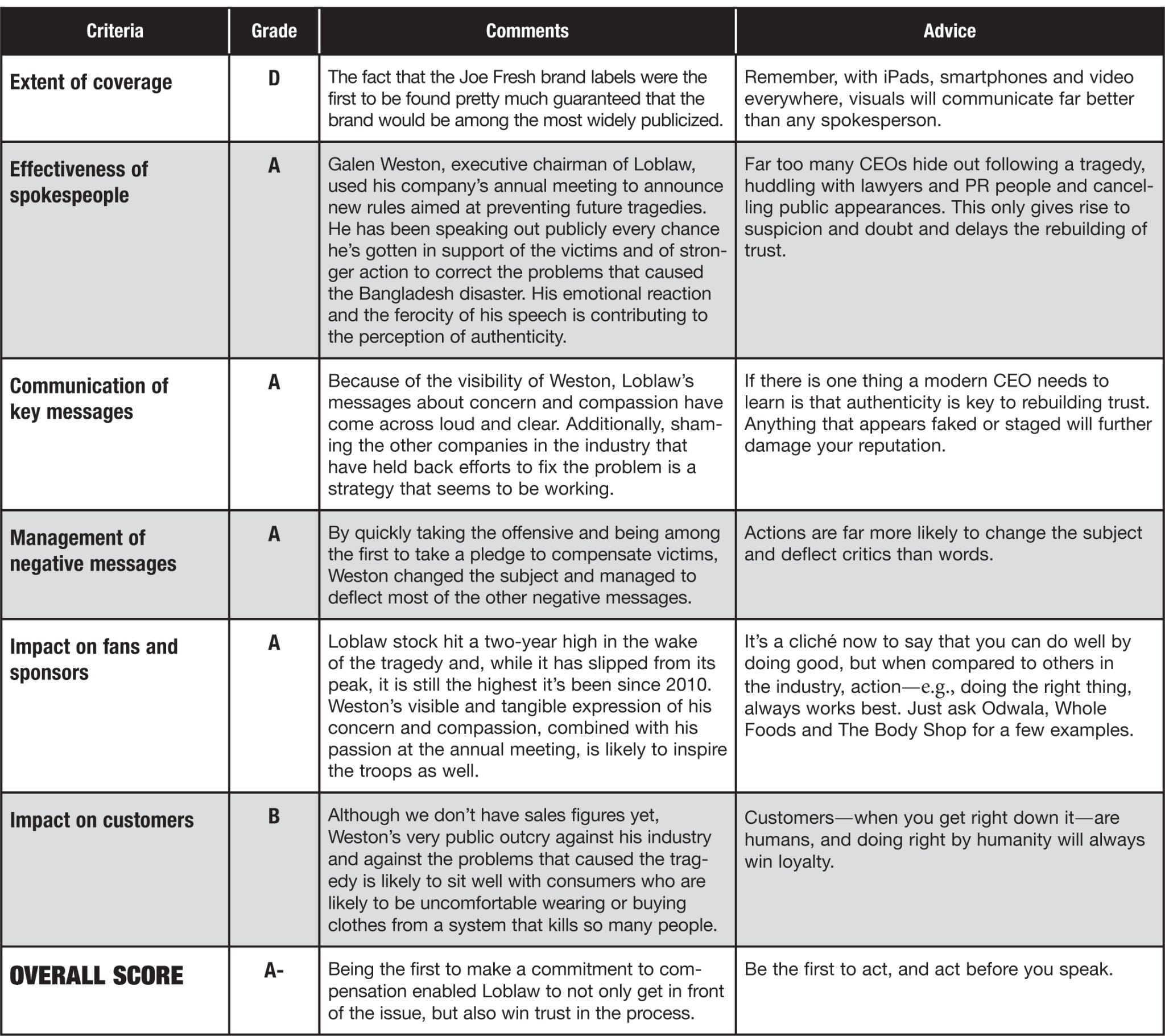 Learn the tips and tricks for enhancing your SEO (search engine optimization) strategy—register for PR News' SEO webinar, set for Tuesday, May 21.
CONTACT:
Katie Paine is CMO of News Group International. She can be reached at katie@newsgroupholding.com.