Sure, people have short memories, except when it comes to bad performance. PR pros can mitigate any damage by communicating what went wrong—and how the company is getting back on track.
▶ Myriad Reasons for Decline in Reputation: As PR managers know all too well, there are countless ways that brands can suffer from a lousy reputation, and the latest list of negative movement (per CoreBrand) among major brands is no exception. Medical technology company Stryker, for example, went on a string of acquisitions in the last couple of years before getting sidetracked by regulatory controversies arising from those acquisitions, according to Jim Gregory, CEO of CoreBrand. Omnicom Group, the ginormous advertising and marketing communications company, provides another cautionary tale for PR pros. With great fanfare, the company in mid-2013 announced a merger with rival Publicis Groupe. The companies' chieftains talked big game. And then last May the whole thing was called off, as the obligatory negative coverage in the media followed. As Gregory put it, regarding the collapse of the deal, "Where's the vision?" It's a key question that senior PR pros working for companies grappling with negative perception need to ask themselves. Otherwise, that perception is likely to linger indefinitely.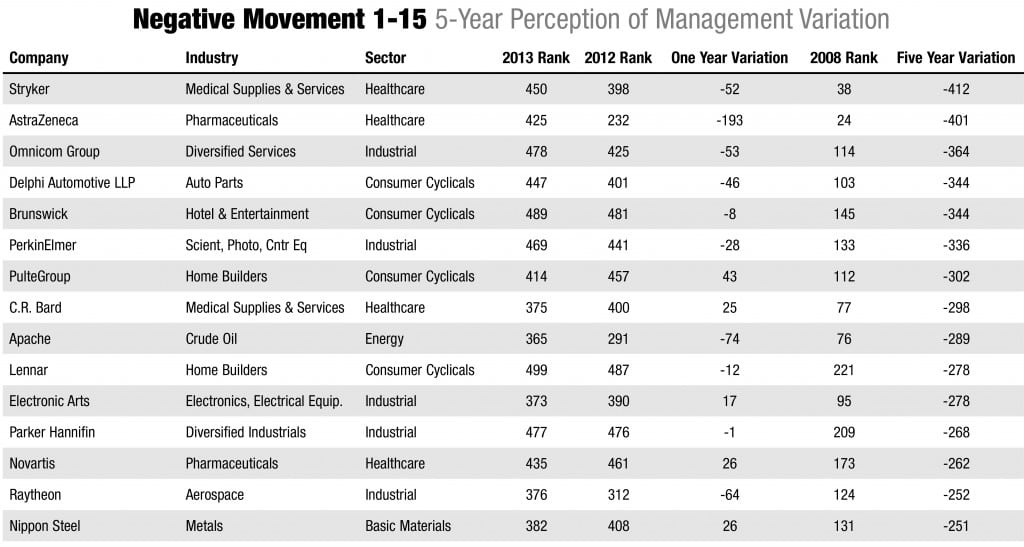 METHODOLOGY: CoreBrand conducts a continual benchmark tracking research study called the Corporate Branding Index, consisting of 1000 companies across 50 industries in the U.S. The research is conducted among a business-leader audience, with 10,000 telephone surveys completed annually. Measures of "Favorability" are determined by asking about three attributes: overall reputation, perceptions of management and investment potential. Only those who are "Familiar" with the companies are asked these questions.
This article originally appeared in the July 21, 2014 issue of PR News. Read more subscriber-only content by becoming a PR News subscriber today.