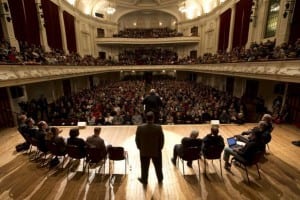 It's an occupational hazard for PR pros. They make sure that reporters and other media reps will cover a major speech that the CEO is delivering at an industry conference. Key employees are invited, as well. It's the brand's turn to shine. Until the CEO commits a flub that makes the audience scratch its collective head.
Public speaking, of course, is one of the most difficult things to do.  Cue the Seinfeld joke here about how at a funeral most people would rather be in the casket than deliver a eulogy.
As events and conferences proliferate at a rapid clip, there's more and more opportunity for PR pros to position their senior executives as thought leaders and public speakers.
At the same time, there's more opportunity for the executives to commit verbal gaffes, forget to make room for questions or, the worst sin, make people's eyes glaze over with boredom.
Before speaking in public, C-level execs and other senior managers need ample prep time, which is where good old media training comes in. But even when you think you've covered all the bases pre-speech, there's a strong possibility that something can go awry.
With that in mind, we asked PR News' audience what bad or disappointing public speakers often neglect to do. Based on the responses, here are five steps that all public speakers should take:
1. Prepare a customized speech based on the level of understanding of the audience.
2. Leave meaningful time for questions and interactions.
3. Look up from one's notes and make eye contact with the audience.
4. Speak loudly, slowly and clearly enough to be easily understood.
5. Do research on the speaking venue.
Call it a checklist to ensure, as best as possible, that speeches given by senior executives go off without a hitch. What items would you add to the list?
Follow Matthew Schwartz on Twitter: @mpsjourno1