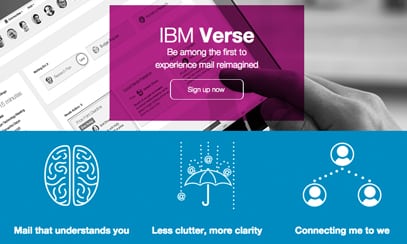 IBM may be traditionally known as a hardware company, but the tech giant has been steadily making a shift into the enterprise software business. On Tuesday, the company announced its latest entry into the software game, IBM Verse.
IBM is characterizes the new client, a hybrid email/social media/file sharing service, as "mail that understands you." Verse can learn and predict user behavior, even drafting email responses based on similar previous interactions, and it includes a personal assistant that recognizes your most frequently contacted coworkers.
The service also includes options for muting email chains and viewing attachments without sorting through entire email chains, all in an effort to make the experience of email feel less cluttered.
With Verse, IBM joins a growing a race to take over office communications, a lucrative but somewhat stagnant business currently dominated by stalwarts Microsoft's Outlook and Google's Gmail, both of which have remained largely unchanged for years. For communicators constantly looking to boost their value, getting their messages and/or branding into "work flow" situations is shaping up to be a massive destination. Expect the scramble to accelerate in the coming months and years. What's your pitch?
Follow Brian Greene on Twitter: @bw_greene