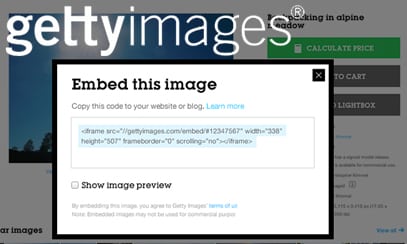 Getty Images, one of the world's largest stock photo agencies, will make its vast backlog of images available for blogs and social media sites to use for free. The nearly 35 million photos will be available through a new "embed tool," which will frame the images with a code that links back to Getty's website.
The company said that the move is designed to combat piracy. And because  Getty can't sue everyone who steals its images, the company needed a marketing plan.
"If you want to get a Getty image today, you can find it with a watermark very simply," Craig Peters, a business development executive at Getty, told the BBC. Getty will get at least some of the credit for those images via the links back to its website, although the company still won't get paid for the use of those images.
For PR pros who are constantly being told that visual storytelling is the future, Getty's freeing up of this vast swath of images will make life much easier (and inviting to customers and prospects).
Prior to the announcement, communicators wanting to use images from Getty would have to purchase the rights to each one individually or run the risk of legal action.
With so many images now available for free, companies seeking to expand their visual storytelling have an opportunity to do so using high-quality images from one of the most accredited services in the business.
How will you use Getty's new free images in your communications?
Follow Brian Green: @bwilliamgreene