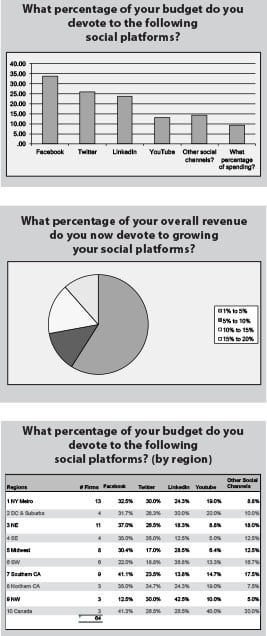 Despite the constant drumbeat throughout PR and marketing precincts to ramp up spending on social platforms, nearly 60% of senior-level PR executives said they are spending between just 1% and 5% of their overall revenue on social media, according to an exclusive study for PR News conducted by PR consultancy StevensGouldPincus.
The online study, which was conducted in September and October, took the pulse of 64 senior-level PR executives. It was an effort to gauge the appetite among both agencies and clients to boost spending levels on social platforms, such as Facebook, LinkedIn and Twitter, which have quickly moved to the top of the PR food chain.
The big picture? Shifting PR budgets to enhance spending on social platforms is most likely going to be a long and arduous process.
"A lot of agencies are not sophisticated with [spending on social] and are still feeling their way around, the space," said Rick Gould, managing partner of StevensGouldPincus. "There are some CEOs [in PR] who are still looking for their comfort zone."
According to the survey, roughly 16% of the respondents said they devote between 10% and 15% of their overall revenue on social platforms while approximately 11% of the respondents said they were spending either less than 1% or more than 20% on social platforms.
When it comes to which social channels are garnering the most spending among PR execs the distribution was fairly equitable, with Facebook grabbing the most dollars, followed by Twitter and LinkedIn. PRN
CONTACT:
Rick Gould, rgould@stevensgouldpincus.com.
This article appeared in the November 4 issue of PR News. Subscribe to PR News today to receive weekly comprehensive coverage of the most fundamental PR topics from visual storytelling to crisis management to media training.