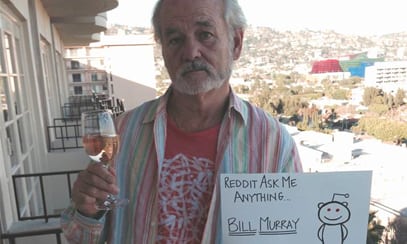 Reddit's popularity is undeniable. Last month alone, Reddit had more than 113 million unique visitors, making it the 19th most popular website in America. More—much more—of what you see in the mainstream media gets its inspiration from the social media and news platform than you think.
Reddit's audience is notoriously tough, especially if it perceives disingenuousness on the part of someone posting on the site. Nowhere is that more evident than with the platform's popular Ask Me Anything (AMA) section (or subreddit, as it's known on the site).
AMAs are interactive, real-time question and answer sessions between an individual and the entire Reddit community. Any Reddit user is free to pose a question to the individual doing the AMA, and that individual gets to choose which questions to answer. According to community sentiment, as determined by upvotes (positive) and downvotes (negative), the most popular questions and their answers get voted to the top of the AMA page.
Before you get your brand or client involved in an AMA, you should really be sure that you're OK with the "anything" part. There have been plenty of cases of AMAs that have gone wrong and damaged the brands or individuals that started them, and there's even a subreddit for bad AMAs.
That's not to discourage you from trying it out. A well-done AMA will boost your popularity with a savvy, tech-friendly audience. They can be a great way to show some personality, and a willingness to engage in honest conversation is always applauded.
Before you jump into it, though, you have to be prepared and you have to play by the rules. At PR News' June 3 Social Media Summit at the Grand Hyatt in New York City, Serena Ehrlich, director, social & evolving media at Business Wire, shared some tips on how to prepare for a Reddit AMA:
Establish a goal for the AMA ahead of time. If you don't have a desired outcome, don't do an AMA.
Thoroughly read the official AMA guide. Pay attention to the rules and guidelines.
Determine a topic and a headline that's under 30 words. Write an introductory post, and post visual evidence that there's a human being behind your Reddit handle.
Have pre-written answers and messages, but be prepared to ad lib based on questions
Do not take it lightly.
Reddit does not allow URL shorteners in AMAs.
Pro tip: Be prepared to answer the question, "Would you rather fight 100 duck-sized horses or one horse-sized duck?"
Check out PR News' upcoming Google Boot Camp for Communications Professionals on July 15 at the Grand Hyatt in New York City.
Follow Serena Ehrlich: @serena
Follow Brian Greene: @bwilliamgreene