It's safe to say that, regardless of the industry in question, all organizations' stakeholders are engaged in social media—at least to some degree. In fact, it's the degree of stakeholders' engagement that defines organizations' communications strategies in the first place. As a result, determining this "degree" is of paramount importance for communications professionals, as this establishes who, where and how they will target their social media outreach efforts.
This is easier said than done, but don't despair: Social media pioneers have made significant headway in establishing a process for understanding both how engaged their audiences are, and how this engagement can be leveraged most effectively. So, without further ado, consider the following best practices, all offered in the context of Forrester Research's Social Technographics Profile (re-created on page 7):
â–¶ Determine the engagement profile of your audience. This profile will inform your outreach strategies.
"Decide on your target audience, and observe them," says Charlene Li, a partner at Altimeter Group, and co-author of Groundswell ( Harvard Business School Press, 2008). She recommending that communications executives ask themselves the following questions:
• Where do these audience members interact—or not interact?
• What topics galvanize them?
• What do they share?
• What sentiments do they exhibit?
Based on the answers to these questions, you can then classify the audience according to the different engagement profiles, which Forrester Research has defined as the following (see image for more details):
• Creators
• Critics
• Collectors
• Joiners
• Spectators
• Inactives
Understanding where your target stakeholders fall within the overall "ladder" will give you a much better idea of how best to reach them—and to what degree their online activities might impact your brand and reputation. In terms of determining the best way to engage accordingly, Li says, "Don't aim for the biggest group—aim for the biggest pain [point]."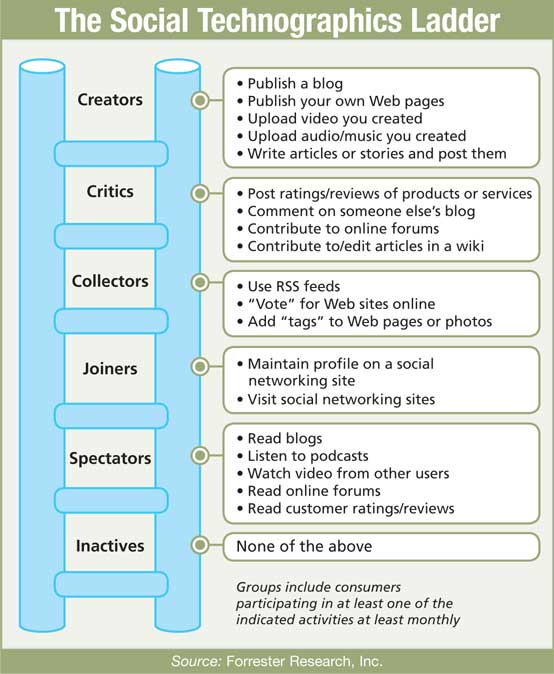 â–¶ Visualize your (and your stakeholders') relationships. Classifying specific audiences according to their level of engagement online is just one step of the overall process; next, communications professionals need to determine how these individual audiences relate to and interact with each other. In other words, they need to map out relationships.
"Social aggregators can map your different [stakeholders'] relationships," Li says. "Use them to identify the influencers who are connected and share information with each other."
There is a slew of free social aggregators to help manage the mapping process, including:
• FriendFeed
• Socialthing
• Profilactic
• Zensify
Among the paid vendors capable of relationship-mapping:
• 33Across
• Lotame
• Rapleaf
â–¶ Build your communications plan to handle different social media mind-sets. It's important to note that different stakeholders will fall into different engagement profiles; some will even fit more than one profile depending on the activity.
For example, a portion of your target customers may fall into the joiners/spectator categories, while your target media may be, say, critics. Your communications plan must be able to maneuver these differences accordingly.
Li describes different media mind-sets through a quadrant, in which the y-axis characteristics are dependent and independent, and the x-axis characteristics are insecure and confident. In this case, the possible pairings would be:
• Fearful skeptic
• Cautious tester
• Transparent evangelist
• Realistic optimist
Based on this, Li says, "Find the 'moments of faith' and the 'moments of crisis' for each mind-set." Anticipating these from the outset will make any initiative run more smoothly.
â–¶ Don't go overboard with social media. Because pockets of your overall target audience will not be actively engaged in social media at all times, it is important to develop communications plans that balance everyone's preferences, online and offline.
"Evaluate where social makes sense," Li says. "Identify where social network data and content can and should be integrated in the business."
â–¶ Be dedicated to data, and measure the right things. In the same vein as not going overboard with social media, it's also important to back up your online initiatives with data that aligns with the goals you want measured.
"Understand new data standards of the open social Web," Li says. "Your goals determine your metrics—use the same metrics as your marketing goals."
As for specific metrics to consider, Li cites the following:
• # of people reached/# of interactions
• # of issues addressed
• # of ideas implemented
• # of referrals/# of re-tweets
• Net promoter score (how likely a person is to recommend you/your brand to someone they know)
• Customer referral value
â–¶ Realize mistakes quickly, and correct them. Social media outreach and engagement is all about relinquishing control and taking risks, which means that mistakes will be made. The key is to anticipate potential land mines and, when they do go off, to understand why.
"Identify the top 10 worst-case scenarios, and develop mitigation and contingency plans," Li says. "Prepare everyone for mistakes, [because] they are inevitable."
CONTACT:
Charlene Li, charlene@altimetergroup.com