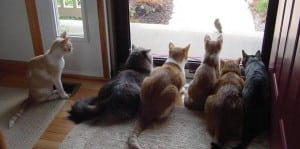 Finding the right formula for creating shareable online content is always a challenge, oftentimes a daily one. In this new sharing economy it's essential you know the new rules of viral content.
Jonathan Perelman, vice president of agency strategy and development at BuzzFeed, shared his rules for shareable content at the
PR News Social Media Icon Awards luncheon
today in New York. And Perelman should know, since 75 percent of BuzzFeed's visitors share content from the site.
Perelman's Social Content Rules:
1. Make content you'd be proud to share
2. Don't use tricks
3. Be yourself
4. Own what you are
5. No ideas are bad ideas - always experiment
6. Have a heart
7. Content is about identity
8. Capture the moment
9. Cute animals deserve respect
10. Humor is inherently social
11. Nostalgia is social too
12. And human rights is social too
13. Don't ignore mobile
14. Don't post things people are embarrassed to share
In summary, take a step back and remember that you're sharing content with other human beings who like to laugh, learn and give back to the community.