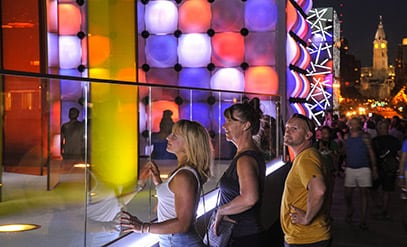 What do you do when you're a multibillion dollar corporation with hundreds of thousands of employees around the world and no one recognizes your name? This was the challenge facing Saint-Gobain North America (SGNA) in 2013 as it began to plan for its 350th anniversary in 2015.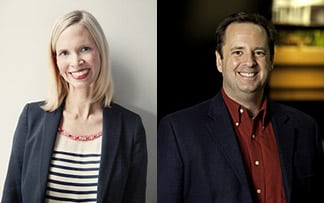 Saint-Gobain, one of the world's largest manufacturers of sustainable building products and high-performance materials, saw a unique opportunity to increase brand awareness by leveraging its milestone anniversary and creating a year-long branding program that revolved around a never-before-seen global exhibition called "Future Sensations."
Open to the public and free to visit, "Future Sensations" was an immersive consumer experience with five distinct pavilions that took visitors on a sensory journey of science, storytelling and art celebrating the past three and a half centuries while looking ahead to the future. The touring exhibition made four stops across the globe, including Shanghai, China, São Paulo, Brazil, and Paris, France. Philadelphia – the only stop in North America and the home of Saint-Gobain's domestic headquarters – was the second-to-last stop on the tour, May 30 through June 6.
As Saint-Gobain's longtime agency of record, Brownstein Group (BG) led the media relations and overall promotion plan for Future Sensations. Specifically, BG was tasked with ensuring that the Philadelphia exhibition was not only highly attended, but also that media relations activities kick-started a new era for the 350-year-old organization.
To begin the monumental task, BG and Saint-Gobain identified Visit Philly – the primary tourism marketing commission for Philadelphia – as the best partner to help announce the forthcoming exhibition and build anticipation. Visit Philly's influential social media presence and its highly trafficked blog – uwishunu.com – would lend reach to local millennials, an audience with whom Saint-Gobain does not regularly connect. After months of partnership development, uwishunu.com became the official announcement vehicle and buzz-builder for Future Sensations.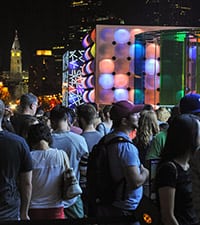 When it came to breaking the big news of the exhibition coming to Philadelphia, BG took a non-traditional approach, recommending that Saint-Gobain not be responsible for breaking its own news. Instead, the announcement was made at a press conference hosted by Visit Philly in which the group invited national and regional media to hear about Philly's most exciting spring/summer events. The high visibility of the announcement set off a flurry of inbound media inquiries and social media activity that would not have been achieved without Visit Philly's reach and influence.
Just one week prior to the exhibit opening, Philadelphia's mayor and Saint-Gobain's North American CEO held a joint press conference atop the Philadelphia Museum of Art's iconic steps overlooking Eakins Oval, where cranes and tractor trailers had already begun the complex process of constructing the massive exhibit. It was here that the media finally understood the immense magnitude of the exhibition they had been hearing about for weeks. The visual of five complex structures each weighing 50+ tons rising against the Philadelphia skyline was, in and of itself, an incredible draw, resulting in 15 pieces of coverage in target media.
On opening night, Saint-Gobain hosted a "Light Up the Parkway Party" to bring Philadelphia's most socially influential Millennials to the exhibit to experience the first official lighting of the exhibit. One thousand lucky uwishunu readers were given VIP wristbands that granted them VIP access. The result of uwishunu's first post resulted in wristband sellout in under 100 minutes.
In the eight weeks leading up to the exhibit, over 275 media from the Philadelphia region and over 50 national architecture/design media were targeted. The result was 200 pieces of unique earned media coverage and 38+ million impressions.
Words alone can't describe the magnitude of this project. For a full visual recap, check out this summary video.
Find the right agency to fit your needs by searching PR News' Firm Finder Platform today.
Carmen Ferrigno is vice president of communications at Saint-Gobain Corp. He can be reached at Carmen.Ferrigno@saint-gobain.com. 
Erin Allsman is senior vice president for public relations and social media at Brownstein Group. Follow her @ErinAllsman.