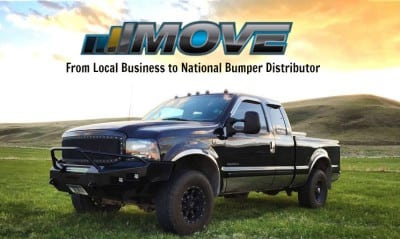 This article is part of PR News' series of mini-case studies showcasing successful agency/client partnerships.
In an attempt to drive sales of its do-it-yourself bumper kits, Montana-based truck and SUV custom bumper retailer, MOVE Bumpers, enlisted the help of Hudson Integrated Web Agency. After thoroughly researching the company's market, Hudson realized that with the help of social media, MOVE could expand its business well beyond its local market and become a national brand.
Before the Internet seeped into almost every aspect of American life, it would have been almost unthinkable that a small, regional company could quickly and effectively transform from a regional business into a brand with coast-to-coast recognition.
The partners discovered that no matter how niche their product was, their target consumer was spread out across the U.S. After learning that MOVE's strongest audiences extended beyond Montana into Texas, Hudson knew MOVE's products had the potential to entice buyers nationwide.
Being a small business, the partners didn't have much of a budget to work with to get the message out. Rising to the challenge, Hudson decided their best choice was to develop a series of highly targeted Facebook ads.
With each campaign, the partners targeted different sectors of the market in an attempt to grow MOVE's essentially nonexistent Facebook audience. By using geographic, behavioral and lifestyle data they were able to develop ads that Facebook deemed highly relevant to their customers, effectively bringing costs down.
Their ads succeeded in generating fans of the brand, but it was their organic content that turned fans into customers and dedicated brand supporters. By posting content the audience would appreciate, MOVE began to be seen by consumers as not only a business, but also a partner in, and proponent of, the DIY lifestyle its products promoted.
By creating and amplifying this type of content, the partners drove MOVE's Facebook following from 3,500 fans to almost 50,000 in less than a year. As the brand's presence on the platform exploded, positive product reviews grew from 23 to almost 100, which served as a crucial lynchpin in securing future sales and solidifying the brand's reputation. Less than three months after the Facebook campaigns kicked off, MOVE's do-it-yourself bumper kits tripled in sales and continue to be a top seller for the company.
Before Hudson Integrated Web Agency teamed up with MOVE, the company took orders through email and over the phone. The partners' efforts proved so successful that MOVE needed to build an eCommerce option into their site to handle the increase in demand. And after the integration of online buying options, MOVE's sales more than doubled. For their exemplary work with this digital listening campaign, PR News also awarded the partners a 2015 Digital PR Award.
Follow Mark: @MarkRenfree