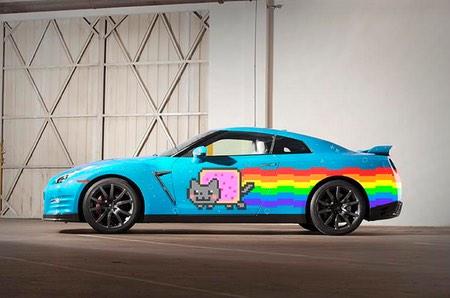 This article is part of PR News' series of mini-case studies showcasing successful agency/client partnerships.
Social content itself isn't something that necessarily takes hours of toiling to build. The best content is often done in the moment, when you jump on a trend and steal the show for your brand. The real time is spent on creating an airtight strategy that sets your efforts up for success.
Without proper planning and consistent monitoring even the best content may not only fall flat, but could also expose your brand to undue negativity. Nowadays if something goes wrong, brands hear about it instantly and very, very publicly.
Despite the dangers of social media, Nissan and its agency partner TBWA saw the upside to this type of extremely open dialogue as a chance for positive communication from the brand to go viral.
When popular musician and automotive enthusiast Deadmau5 gave his Ferrari 458 Italia a custom meme-inspired makeover in preparation for a rally last year, Ferrari saw it as an infringement on its brand image and issued him a cease and desist.
The partners saw this as a perfect opportunity to jump into the conversation and create social buzz around the Nissan GT-R.  After doing their due diligence, they decided the GT-R would be a great fit for the artist and shot a tweet at the musician hoping they would see positive fan reaction and maybe a tweet from Deadmau5.
Within a matter of minutes, the conversation gained massive momentum after the musician saw the Nyon Cat (a popular Internet meme) inspired GT-R and coined it the "OMGTR." He then sent the team a direct message on Twitter asking for a test drive.
After test-driving the car—broadcast all over social media with images of Deadmau5 and the vehicle being posted on his and the partners' social channels—he publicly vouched for the car and decided that he would film his hit YouTube show "Coffee Run" in a GT-R.
What started with a single tweet quickly grew into a phenomenon with more than 350 million impressions—24 million of those coming in the first 24 hours from Twitter—and more than 500 news sources covered the story, claiming that Nissan managed to one-up Ferrari.
The partners were also able to double the engagement on the brand's past posts through their efforts. New fans of the brand were taking the time to scroll back through old posts and actually engaging with the content, which boosted the brand's engagement rate by 600 percent. The partners also earned themselves a PR News Social Media Icon award for their work with hashtags on Twitter.
Find the right agency to fit your needs by searching PR News' Firm Finder Platform today.
Follow Mark: @MarkRenfree