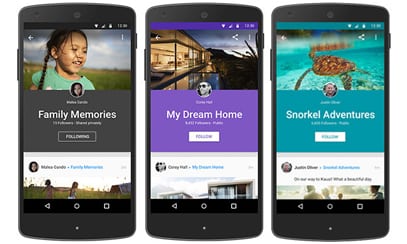 Google announced a major change to Google+ on Monday with the introduction of "Collections." The new feature will provide users with a way to group bunches of posts together by topic, giving them an easy way to organize and share things they are interested in. Collections are designed to "give you a great way to find more of the stuff you love from the people you follow," Google's Dmitry Shapiro wrote in a blog post introducing the new feature.
If you're a Pinterest user, this idea may sound familiar. In essence, a Google+ Collection resembles a Pinterest board. The new feature signals a strong move by Google+ toward the Pinterest model. And for good reason.
Pinterest is among the most popular and fastest growing social networks, boasting 70 million users who drive 25% of all social shares, second only to Facebook. Google+, on the other hand, has been something of a social media stepchild since its introduction in 2011. The platform has struggled to catch on, and its creator unceremoniously left the company last April. While Pinterest users browse the network for an average of 98 minutes per month, Google+ users spend only seven minutes per month on the platform. It's easy to see why Google+ would want to imitate Pinterest.
What makes Pinterest really attractive for PR pros is the type of content featured on the platform. Pinterest content is aspirational, meaning that instead of talking about what they've done or where they've been, Pinterest users talk about what they want to do and where they want to go—and, perhaps most important, what they want to buy. With Collections, Google+ will look to capture some of that aspirational content—and the increased user interaction that comes along with it.
Follow Brian Greene on Twitter: @bw_greene