Social media's ability to allow brands to engage directly with customers is fast becoming an imperative for successful content marketing. In each mini case study (below), brands coupled social media with a personal touch, creating customized content that resonated with audiences. Three brands aimed at specific targets: Purina, first-time dog owners; H&R Block, parents and teachers; Chevy, millennials. Gap also took a personal route, using stories of its employees and executives to elevate the image of retail and highlight its career potential.
Name of campaign: 'Puppyhood' Video Series, Nestlé Purina PetCare Co., June 2015
Content marketing goal: Purina partnered with BuzzFeed to create content reinforcing the key message that puppies need specialized nutrition.
The execution: Videos were created to be relatable for millions of Americans who've owned a puppy or intend to; they can see themselves in the same situations as Max, a character in the video, as he learns the lessons of becoming a dog owner. The videos supplement the brand's marketing and PR effort to build brand equity with Purina's target audience. Building on the social media response to the first video, Purina tapped The Huffington Post as a media vehicle to strategically seed the short-form videos and continue to drive additional views of the original "Puppyhood" video, along with other short-form videos.
Cats and dogs can get along, at least when it comes to content marketing. Previously, the popular cat food brand Friskies had success partnering with BuzzFeed Motion Pictures to produce the popular Dear Kitten video series. Purina saw this as an opportunity to partner again with Buzzfeed, this time to create engaging content for puppy lovers.
The results: Within weeks of launching, the original Puppyhood video became BuzzFeed's most shared co-branded video to date. The video had more than 75 million cross platform views including You Tube, Huffington Post and Facebook. The like/dislike ratio on YouTube is at 99.6 percent and it was the second most viral ad for the first half of 2015, based on more than 2.8 million social shares.
By Wendy Vlieks, Director, Corporate Public Relations, Nestlé Purina PetCare Co.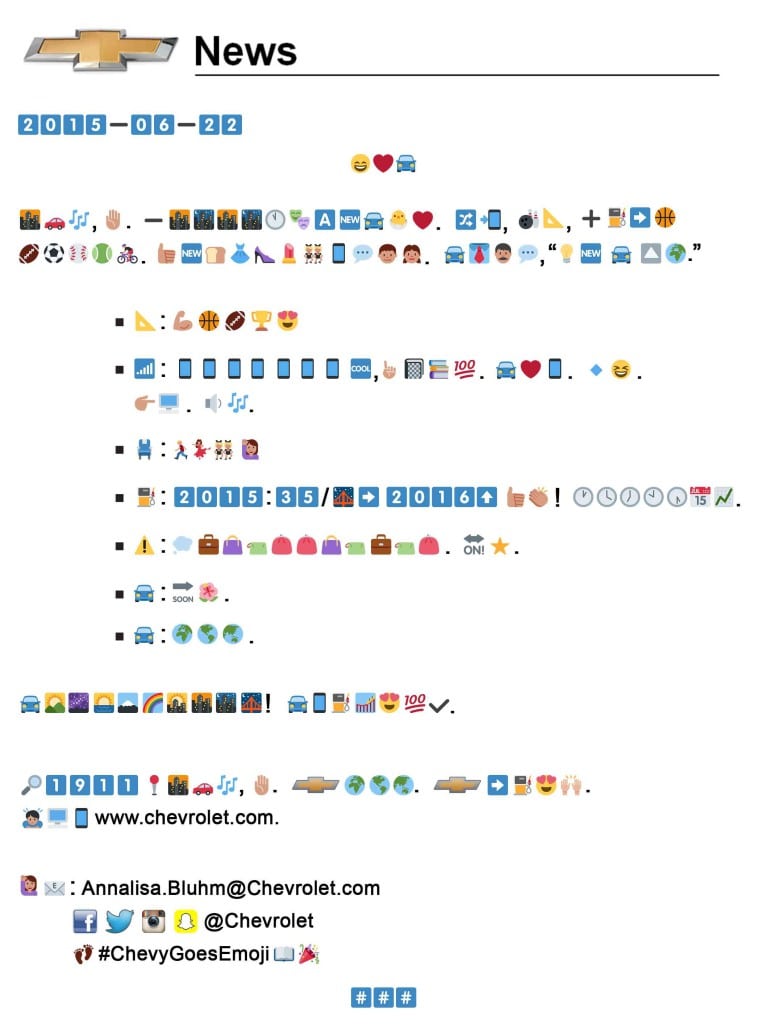 Name of campaign: #ChevyGoesEmoji, June 2015
Content marketing goal: To introduce the 2016 Chevrolet Cruze, Chevrolet needed to go beyond a traditional reveal to reach the young, international target demographic that's glued to mobile devices. To do so, Chevrolet rode the burgeoning trend of pictographic emojis to show the brand literally and figuratively speaks this demographic's language. Emojis also added nuance and tone to relatively toneless messages. Along the way emojis have evolved from obscurity into the mainstream.
With #ChevyGoesEmoji, Chevy took several calculated risks. It would need to stay abreat of always-changing cultural trends and use emojis to break through content clutter and create a positive news lift while remaining true to its brand identity.
The execution: Chevrolet issued the world's first all-emoji press release, inserting its own "bowtie" logo amid the smiley faces and icons peppering the text messages of millennials worldwide.
The campaign kicked off with the emoji press release, aiming to create buzz. To sustain buzz from the first day through the 2016 Cruze reveal on day three, Chevy enlisted influencers to create content, including the Emoji Academy four-part video series. The humor-filled plot cast comedian Norm Macdonald as a Chevy spokesperson hired to help Chevy make an important announcement. The videos were distributed through organic and paid channels.
The chatter culminated with a 2016 Cruze reveal event in Detroit, while Chevrolet sustained social chatter the following day using the hashtag #ChevyGoesEmoji. Throughout all four days of the campaign, Chevrolet conducted organic "Surprise and Delight" campaigns, rewarding fans who'd engaged with #ChevyGoesEmoji with emoji-themed prizes.
Even though the campaign primarily was hosted through social media channels, Chevrolet integrated all aspects of digital into the effort. These included homepage takeovers, Chevrolet.com masthead assets linking to the reveal site, paid search, paid social, radio and PR.
The results: The initiative boosted earned media lift 26 percent, far surpassing the brand's target of five percent. More than one-third of the coverage came from news media that normally bypass Chevrolet. The campaign appeared in 91 unique articles and the message reached an audience of 6.3 million, surpassing the goal by 40 percent.
By Miker Stovall, Senior VP & Partner, FleishmanHillard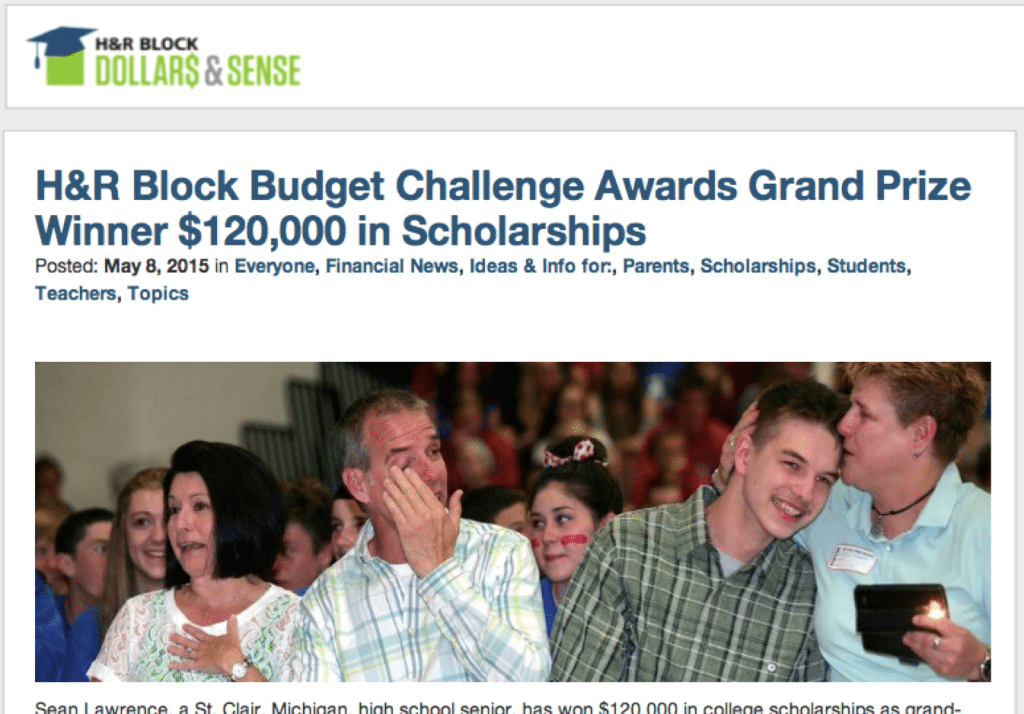 Name of campaign: H&R Block's 'Dollars & Sense' Blog, Fall 2014
Content marketing goal: The H&R Block Dollars & Sense (HRBDS) program was created to help teens learn money skills on their way to becoming financially responsible adults. Block relaunched its "Dollars & Sense" blog, aiming it at teachers and parents and adding long-form content to drive traffic to the HRBDS website. The company wanted visitors to land there, see its signup CTAs and get involved. Dollars & Sense became the central hub of Block's digital marketing strategy.
The execution: It was reasoned that a Facebook post alone would fail to gain enough traction to establish the program's purpose and highlight the expertise it offered. Creating longer form content with genuine pass-along value and customizing how it was pitched in each social media channel gave the blog's followers and their friends a simple and brand-positive reason to engage with HRBDS. Another positive, blog content lives long-term, accumulating views rather than getting pushed down and forgotten in a feed.
After establishing a clearly defined content strategy, the blog was opened to contributing writers. Block asked teachers, parents and financial bloggers to contribute. This enabled H+R Block to reach followers without paying for sponsored content. Block's agency, SPONG PR, taking a page out of Buzzfeed's and Upworthy's playbooks, created listicles and headlines that read less like education pieces and more like newsfeed candy, such as "5 Wild and Crazy Ways Teens can Make Money."
The campaign was able to extend its reach via paid support on Facebook. The agency also designed Pinterest-friendly graphics for each evergreen, teacher-focused blog post to create a long-term traffic source for the blog.
The results: These updates, combined with other PR and marketing, drove nearly 100K signups for the Budget Challenge program, and increased website traffic 579 percent year over year. Daily Pinterest impressions increased 2,632 percent, while H+R Block's email subscriber list doubled, and organic reach of the company's Facebook posts grew more than 10,000 percent.
By Annie Riley, Senior Manager of Digital, SPONG PR.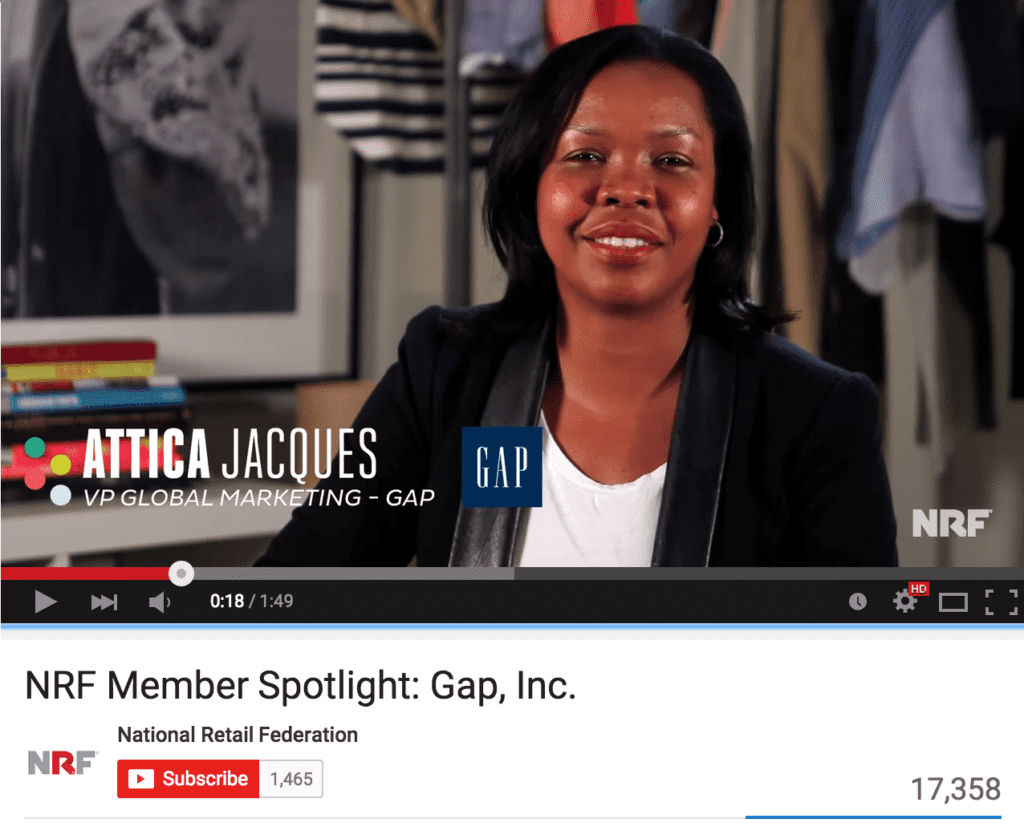 Name of campaign: This is Retail: Gap Inc. video series produced by the National Retail Federation (NRF)
Content marketing goal: Launched in 2013, the series highlights personal stories of retail executives and employees, seeking to change misperceptions about the retail sector. Last year, NRF partnered with Gap Inc. to create a campaign video that explored the career paths of GAP executives. Each had begun their careers within the walls of a retail store.
Using personal storytelling to advocate for the industry has become central to NRF's content marketing strategy. NRF's This is Retail: Gap Inc. video elevates a national conversation about industry jobs to the real opportunity of retail careers and provides a platform for students and young professionals to learn more about a career in retail, which supports 42 million American jobs.
The execution. The two-minute video launched on NRF's YouTube channel, Gap Inc.'s career portal, and was featured in NRF's This is Retail campaign.
The video also was distributed through an editorial article on nrf.com and three specific, individual "deep dive" infographics that gave the audience a map of the employee's career steps. One of the biggest highlights of the campaign was the Gap Inc. takeover of NRF's @this_is_retail Instagram account.
The results. From more than 600 videos on the National Retail Federation YouTube account, the NRF's This is Retail: Gap Inc. video is among the top 10 most popular, with 17,000-plus views. The full Gap Inc. series has been shared thousands of times through social media. It serves as a cornerstone of Gap Inc.'s online recruitment effort last summer.
By Margaret Case Little, Senior Director, Communications and Brand Strategy, National Retail Federation
CONTACT: Margaret Case Little, littlem@nrf.com; Annie Riley, annie.riley@spongpr.com; Miker Stovall, miker.stovall@fleishman.com; Wendy Vlieks, wendy.vlieks@purina.nestle.com
This article originally appeared in the July 27, 2015 issue of PR News. Read more subscriber-only content by becoming a PR News subscriber today.