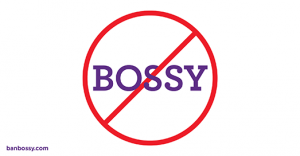 Workplace communications is a living, changing thing. But there are terms that are universally viewed as pejorative, and one of them is the word "bossy." And now Sheryl Sandberg's LeanIn.Org is teaming up with former Secretary of State Condoleezza Rice and Girls Scouts of America to launch a public service campaign called "Ban Bossy."
Now, how many of us have used "bossy" to describe a supervisor or colleague? Be honest. The thing is, more often than not the word is directed at women who are in leadership roles.
The goal of the "Ban Bossy" campaign, which launched on Monday and is trending today social channels, is to help girls and women feel more confident and comfortable as leaders.
A new website, banbossy.com, provides tips for parents, kids, teachers, managers and others about how to encourage young female leaders.
"We know that by middle school, more boys than girls want to lead," Sandberg told ABC News, "and if you ask girls why they don't want to lead, whether it's the school project all the way on to running for office, they don't want to be called bossy, and they don't want to be disliked."
Sandberg, who is COO of Facebook and has started to make noises about running for public office, added that she hopes the campaign will open a dialogue with parents and teachers, to eliminate the use of the word,
The public service campaign could also inspire PR pros and other communicators to look into how they might change the culture in their own workplaces.
That will require a deft and subtle hand, for sure. But, at the least, PR pros can gauge whether there's an appetite in-house to have a transparent conversation about certain words that people use without even thinking and how their repeated use may, in the long run, contribute to low morale and discourage employees from wanting to stay at the company or organization.
Depending on the corporate culture and the level of diversity, this may be a case where over-communicating may not be such a bad idea.
Follow Matthew Schwartz: @mpsjourno1