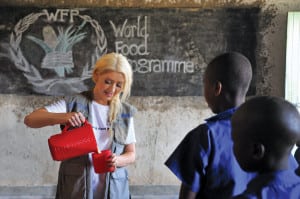 This article is part of PR News' series of mini-case studies showcasing successful agency/client partnerships.
More people will die from hunger this year than AIDS, malaria, tuberculosis and war combined. Yet despite the staggering numbers of people impacted by hunger and the global health crisis, it often takes a backseat to other issues and has historically been a difficult topic to garner interest in beyond local communities.
Eight years ago, Yum! Brands expanded their decades-long role as a leader in hunger relief in the U.S. to reflect their stature as one of the world's largest restaurant companies by creating the World Hunger Relief campaign to help feed hungry people around the globe.
The campaign now spans more than 125 countries, 40,000 KFC, Pizza Hut and Taco Bell restaurants, 1.5 million employees and leverages Yum's vast reach, including its robust social media communities and marketing assets. However each year it gets more difficult to find new ways to engage people on hunger awareness, especially in lieu of new data showing significant changes in the hunger crisis.
Yum! Brands tapped Weber Shandwick to overcome these difficulties and reach a truly global audience. The partners sought to continue to raise awareness and visibility of the global hunger crisis, spur volunteerism and action to help fight hunger and raise funds to combat hunger.
After conducting extensive research the partners found that there is an extremely small number of reporters and bloggers worldwide dedicated to covering hunger. Given the size and complexity of the campaign the partners established an overarching strategic framework to create a global overlay that was also flexible enough to be implemented locally by various brands in different countries, and languages. This approach would lend itself to a higher pick-up rate among various media across the globe by creating news value through local story angles.
Through the "Pass The Red Cup" challenge, which was based off the red cups that the UN's World Food Program relief centers use, the partners were able to boost awareness, encourage social sharing and inspire donations. With the help of a robust internal communications effort, Yum! employees donated thousands of hours throughout the year to various initiatives and volunteer work at hunger relief agencies, food banks and soup kitchens. Last year the World Hunger Relief campaign helped provide nearly 148 million meals and garnered more than 1.2 billion earned media impressions in the first month of the campaign. The partners were also awarded a PR News 2015 CSR Award for their incredible work in the fight against hunger around the globe.
Follow Mark: @MarkRenfree