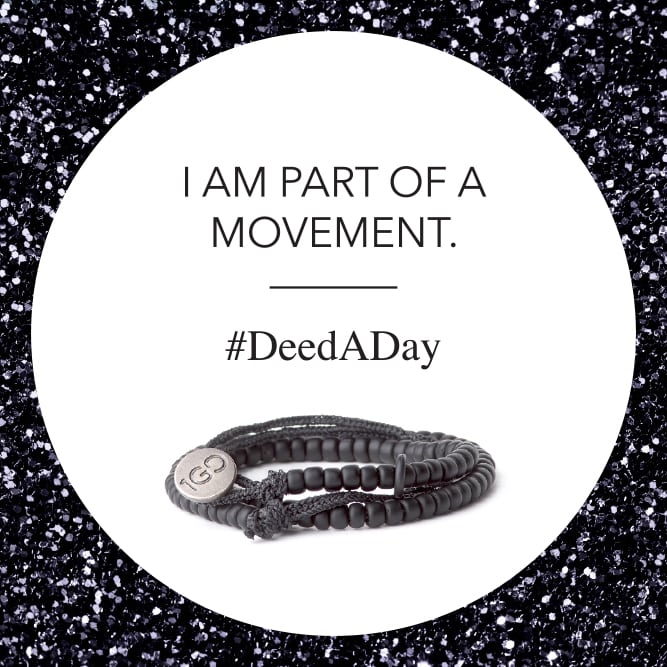 As the year comes to a close and people start looking ahead, many take time to set resolutions and goals that are ultimately self-serving. And there's nothing wrong with that. There is much to be gained from looking into the past for insight into improving the future.
100 Good Deeds, a nonprofit that delivers jewelry to consumers that directly benefits the women who handcrafted it, wanted to shift the conversation around the New Year and get consumers to look to the world around them with their resolutions. Partnering with Everywhere Agency, the team embarked on a campaign to drive sales of the 100 Good Deeds bracelets and get influencers and everyday individuals to commit to doing good for others, as well as themselves, in the coming year.
Everywhere Agency took the mission of 100 Good Deeds to heart, and placed it at the center of their campaign. The nonprofit was created as a way to help at-risk women in Africa attain a sustainable income and a sense of independence. Now expanded beyond the African continent, each bracelet is handcrafted by women in Uganda, South Africa, Zambia, Rwanda, Haiti, Bali and India, and each piece of jewelry sold directly benefits the woman behind it.
In order to increase awareness around the brand and its mission to change the world during the post-holiday sales slump, Everywhere Agency took to the blogosphere to engage some of the largest blogging networks in the country. By joining forces with One2One Network, Latina Bloggers Connect, Mom It Forward, Cleaver Girls Collective and Type-A Parent Network, the partners worked with a combined force of over 46,000 bloggers, who generated 85 blog posts and shared 100 Good Deeds content with their social followings.
On top of their extensive blogging strategy, the partners initiated a Twitter chat to drive campaign momentum. All of the blogger networks invited women from around the country to talk about their good deeds, what it means to do a good deed, and why a good deed should remain anonymous. Participants loved having the opportunity to have direct interaction with Mary Fisher—the artist, author and HIV advocate behind 100 Good Deeds—and at one point, even Rosie O'Donnell jumped into the chat.
The 100 Good Deeds campaign by Everywhere Agency was wildly successful. The partners secured more than 52 million impressions over 10 days from both social conversations and blog posts. The story resonated with influencers and their readers, resulting in an increase in sales for a product that gives back to at-risk communities. In a year marked by terrorism, fear of deadly diseases and civil unrest, the opportunity to share an intention to not only wear ethical fashion, but also do something good was a message influencers were proud to share. PR News also awarded the partners a 2015 Agency Elite Award for their CSR work.
Follow Mark: @MarkRenfree