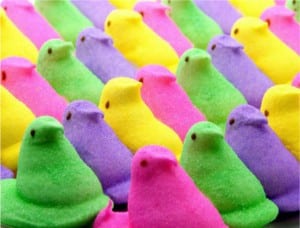 This article is part of PR News' series of mini-case studies showcasing successful agency/client partnerships.
Even for a brand as well known as Just Born Quality Confections' PEEPS— the colorful marshmallow chicks and bunnies that are popular around the Easter holiday—building an audience on an under-utilized social platform can be a staggering feat.
This isn't to say the brand wasn't active on social at all. It sports a highly active Facebook audience that ravenously engages with the brand during the Easter months. But research revealed that PEEPS fans were also using Twitter extensively, a platform in which the brand was seriously lacking a presence on.
After last year's Easter rush, Just Born wanted to show its audience that PEEPS aren't just for Easter, while at the same time enhancing their social position on Twitter. To do that, PEEPS enlisted the help of Coyne PR to not only build up the community on an additional and underutilized platform, but also captivate the audience with fun content to keep the brand strong all year.
Taking the core demographic and objectives into account, Coyne PR developed strategy hand-in-hand with Just Born to gain as much ground on Twitter as possible. The partners wanted to generate sustainable content to resonate with their demographics for non-edible uses such as crafting and decorations—65 percent of the time PEEPS are used for artistic purposes.
The partners joined up with MINI USA on a cross-country tour to capture content and drive the automaker's social following to engage with the PEEPS brand. Coyne PR and Just Born developed a social strategy and editorial calendar for PEEPS to rollout targeted editorial and visual content from this effort on top of additional branded content.
Over the course of a month, the PEEPS Twitter account jumped from slightly more than 700 followers to almost 19,000, smashing projections for the campaign. The partners also saw more than 3.4 million impressions on Twitter alone, while generating almost 470 new followers each day. With the help of Coyne PR, the PEEPS brand secured the larger and more engaged community it has today, which ultimately helped boost the product's sales. In recognition of their success on Twitter, the partners received a 2015 PR News Social Media Icon Award.
Find the right agency to fit your needs by searching PR News' Firm Finder Platform today.
Follow Mark: @MarkRenfree