This episode reminds of us of the old adage, "There's no such thing as bad publicity." It doesn't matter that your brand was cast in a negative light. You're getting the exposure in an inherently cluttered environment. While that may be true, it's not good when your brand gets hijacked. But in a digital age—with some imagination—it's easy to turn a negative into a positive, as evidenced by how the U.K. bakery chain Greggs responded after an offensive company logo appeared on Google.
Greggs, the largest bakery chain in Britain, was flooded with messages from Twitter users after its logo apparently got hacked.
Its real logo was replaced with a spoof image pulled in from uncyclopedia.wikia.com, featuring the offensive slogan, "providing s*** to scum for over 70 years," according to The Telegraph.
The logo ran on the right hand-side of Google when you typed the company name into the search engine.
But the mistake was short-lived because the social media team at Greggs played the error to its sadvantage, sending GoogleUK a tweet requesting that it fix the problem in return for a tray of assorted (and delectable-looking) donuts: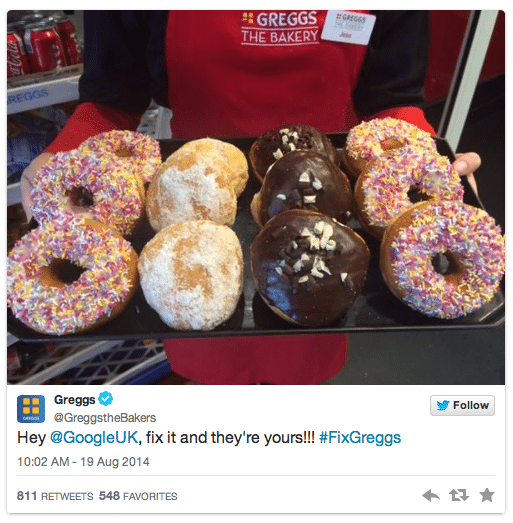 Google responded in kind, saying that it would fix the problem ASAP if Greggs tossed in a sausage roll that the bakery is famous for: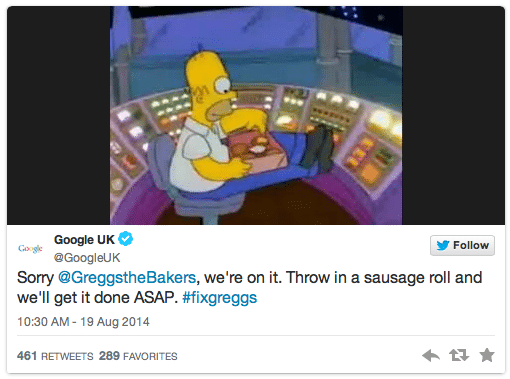 Newsjacking, turning lemons into lemonade, call it what you will. Greggs was able to take what started as PR disaster and morph it into a marketing vehicle.
The Web, social media and the proliferating number of trolls who relish gaming the system in one way or another are perhaps changing the nature of crisis communications.
Pre-Web, there was little brands and organizations could do when their products and/or services were misrepresented, other than distribute a correction that nobody paid attention to.
But online, where information moves at warp speed, PR managers have the opportunity to take something that started out poorly and churn it into campaign (however ephemeral) that reflects well on the organization, not to mention all the earned media.
And, oh, yes, having a sense humor always helps in these cases.
Follow Matthew Schwartz: @mpsjourno1