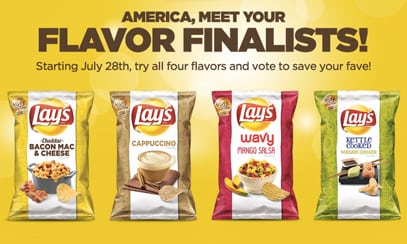 PR professionals hear the advice all the time—one of the best ways to engage your audience is to mobilize them to share your message for you. That's exactly what PepsiCo's Frito-Lay division did with their "Do Us a Flavor" contest, inviting consumers to recommend new, experimental flavors of potato chips.
The goal of the contest, which Frito-Lay has repeated over the years, is to get people talking about potato chips (not exactly the most scintillating subject) and, eventually, to drive them to stores to buy them.
Four finalist flavors—Cappuccino, Mango Salsa, Wasabi Ginger and Bacon Mac & Cheese—will be available starting July 28, at which point Frito-Lay will again invite customers to vote for their favorite new flavor. The one with the most votes as of October 18 will be "saved" and become a regular part of the Lay's rotation.
In a call to discuss the snack maker's positive quarterly earnings report, Frito-Lay Chief Financial Officer Hugh Johnston told the Associated Press that the new flavors are expected to further boost sales. He added that the special flavors are more profitable for the company because they put "maybe an ounce or two less" chips in the special bags but charge the same price as a standard bag.
Already, people are starting to ask questions (Hey, does this bag of chips feel light to you?) and the passing comment is gaining media attention. From a communications standpoint, adding this small detail could put a damper on the positive publicity created through the "Do Us a Flavor" contest.
Follow Brian Greene: @bwilliamgreene