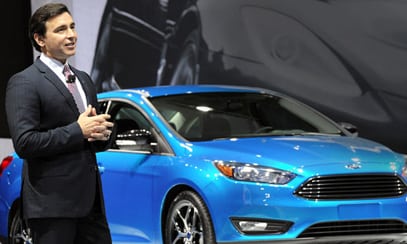 Running a car company is no easy task these days—just ask anyone at General Motors, Toyota or BMW, companies that have been mired in news of recalls as of late. Ford has managed to stay out of the recall melee, and on Thursday the company announced that CEO Alan Mulally will be retiring July 1.
Succeeding Mulally will be long-time Ford executive and COO Mark Fields, who is credited with making North America a profit engine for the company after helping craft the company's restructuring plan, "The Way Forward," in 2006.
Fields will have big shoes to fill, as Mulally was revered at Ford for the company's successes since he took over. Under Mulally's leadership, the company avoided bankruptcy in 2009 when the auto industry was on the verge of collapse, and he revamped Ford's entire product line and corporate culture. Today, Ford is the no. 2 automaker in the United States behind General Motors.
Fields has been described as an acolyte of Mulally's, and the company will look for him to continue on with Mulally's style of management. Still, corporate succession is a tricky process. It's also an aspect of business where public relations professionals can shine.
Natalie Best, executive VP and director of client services at French/West/Vaughan, provides some tips for how communications professionals should prepare for and manage a change at the top:
The Good. Treat human capital as a fundamental element of success within the company on a day-to-day basis. Don't make succession planning a closed process. People take ownership of things they help shape. Involve your employees by grooming leaders early and having a strategic plan to introduce new leaders quickly.
The Bad. Companies now communicate with employees, stakeholders and the media in significantly different ways and through channels that didn't exist a few years ago. Unfortunately, this is where the need for speed comes into play—but with the right message. Waiting too long to address the succession status could cause questions and untruths to circulate, leading to decreased transparency and trust during a transition. So, act quickly and use the motto "Who else needs to know?"
The Ugly. Don't let the media break news to key stakeholders and employees. Let news about any C-level changes—good or bad—come from the company first. If employees find out about the move through the media, the situation puts the company in a defensive crouch.
Follow Brian Greene: @bwilliamgreene