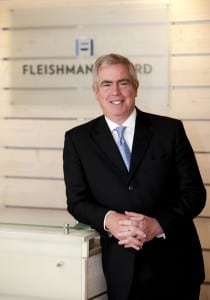 PR giant FleishmanHillard rebranded itself in April with a new logo and a new slogan, "The power of true." The St. Louis-based agency, which has 2,600 employees and is part of the Diversified Agency Services unit of the Omnicom Group, has formalized many of the disciplines that PR departments and agencies are now being tasked with, including media buying, media planning and analytics.
Dave Senay, president-CEO of FleishmanHillard, spoke with PR News about the transition as well as larger changes impacting the PR industry.
PR News: What was the impetus for the reorganization?
Dave Senay: Our clients are now faced with consumers who are much more free roaming than they have ever been and much more individualized in their consumption of media than they have ever been.
On the one hand, that's a frightening proposition. On the other hand, it also indicates that they're much more approachable if you know where to show up. It's still a bewildering proposition for many clients to organize around these new media consumption patterns.
So we said if this is the way people are consuming media and these are the challenges our clients are facing, then we have to organize around three big bets: analytics, social media and integrated communications across paid, owned and earned media.
PR News: How is the agency implementing the changes?
Senay: In our business growth strategy equals personnel strategy, meaning you've got to put people where the rhetoric is and you haven't really done anything unless you've brought in new talent.
So we have been hiring people across the firm with great experience in analytics, experience in media planning, creative directors and award-winning filmmakers. We're taking our base of 2,600 employees and sprinkling in people with these new perspectives to help us make our picture more complete when it comes to communications.
PR News: How does the reorganization change the game for clients who are trying to cut through the proverbial clutter?
Senay: There are a few implications for clients. One, they don't have to bring eight people around the table anymore and get eight different competing opinions. We can bring together more disciplines that at any time in the history of public relations.
Two, clients are going to look to our firm—and I suspect other firms that are making the same leap that we are—and look at us differently, as people who are bringing the "Big Idea" and not simply putting the PR-spin on the back end.
You're going to see more chief communications officers who have turned to PR firms in the past and are now turning to them with more ambitious requests. And the CMOs who formerly would look as PR as a downstream function are looking at PR firms for much more upstream ideation and concepts that are transformative and transmedia.
PR News: What are the biggest challenges to integrating nontraditional disciplines with traditional PR buckets? What are the potential stumbling blocks?
Senay: We have put an enormous amount of time and money into bringing people together, not just in training, but also in actual pitching.
Many clients who have existing relationships with agencies struggle to interrupt the status quo. They struggle to come up with something disruptive that addresses a chronic set of issues that they haven't really looked at freshly before.
Now, with analytics, planning, creative and activation, you can take this set of chronic issues and interrupt them.
PR News: As PR departments and agencies bring in nontraditional hires, what are some of the ways that nontraditional disciplines can educate and inform traditional PR execs, and vice versa?
Senay: First, you have to adopt the attitude that it's not a zero-sum game and we all have something to learn from one another. The second thing is the law of physics: You cannot touch something without being touched yourself.
When you bring together people in a collaborative culture, they learn about each other very quickly and there's a much faster appreciation of what each discipline brings to the party.
Don't create warring tribes. Make sure that when you gather behind the notion of integration, that means that you can appreciate that ideas can come from anywhere, and once you've done that you open people's eyes. There's no one person who's going to be God's gift. 
CONTACT:
Dave Senay is president-CEO of FleishmanHillard. He can be reached at dave.senay@fleishman.com.
Snapshot: Dave Senay
▶ Most important lesson for being successful in PR?
Assuming that we all have the basic skill sets, I'd say "clean your plate." That means work hard, help others succeed, learn everything you can and do great work for clients.
▶ Leadership motto?
If you have surrounded yourself with great people, the most valuable question you can ask is, "What do you think?" Then you'd better listen.
▶ Favorite websites?
Based on what I use most, I'd say Google, YouTube and the National Weather Service (I travel 140 days a year and try to dodge storms when I can).
▶ Best social channel for PR?
My smart-ass answer is "verbal twittering," also known as "conversation." I prefer to go long and deep, not short and shallow. However, in terms of "social" in the way we define it now, I'd say Facebook and LinkedIn, with LinkedIn coming up fast.
▶ If you weren't working in PR you would...
Try my hand at writing fiction, musicals and plays.
This article appeared in the August 19 issue of PR News. Subscribe to PR News today to receive weekly comprehensive coverage of the most fundamental PR topics from visual storytelling to crisis management to media training.