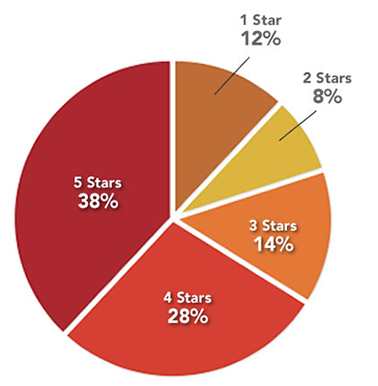 Not every reviewer is a dissenter—most reviews on Yelp are actually positive.
Source: Yelp
Facebook, Twitter and Yelp form the big three social media platforms that Apple has chosen to integrate into its latest mobile software system, iOS6. Though Apple has taken its fair share of criticism over its underwhelming new maps application, the maps' integration of Yelp will enable users to peruse a business location's ratings, reviews, photos and tips while viewing maps.
When Apple handpicks a service to make it instantly accessible to hundreds of millions of iOS users, it means that PR pros better shore up their brands', or their clients' presence on it. Consumer-based review websites like Yelp give the public a forum to directly target businesses' products and services—for good or ill—and are not to be ignored.
Yelp, which already boasts more than 78 million monthly visitors and 30 million total local reviews, has now been thrust into the hands of literally every iPhone user. Though restaurants only make up 21% of the reviewed businesses on Yelp, consider this: An extra half-star rating on Yelp causes restaurants to sell out 19% more frequently (increase from 30% to 49% of the time), according to a September 2012 UC Berkeley study.
Here's five tips on how to leverage Yelp for a communications advantage:
Provide basic business details: Businesses can register and then update their listing by adding photos, a detailed business description, up-to-date information, history and specialties. However, don't use this feature to attack your competitors, reviewers, or Yelp itself—the site says it will remove them, as well as any seed keywords or posts of special offers or promotions in this space.

Set up special promotions (Yelp Deals) or announcements: Yelp makes it easy for communicators to create awareness and offer promotions for their brands, and Yelp Deals or announcements will appear at the top of your individual profile. Yelp will retain 30% of the price for each Deal sold, and 10% of the price for each gift certificate sold. In addition to appearing on your Yelp page, your Deal will be highlighted in Yelp's search results.

Review alerts: Once you have set up an account, you will receive an e-mail message whenever you receive a new review or message. This is a great feature—you don't have to keep reviewing your Yelp business page to look for new reviews. Consider this the equivalent of using Google Alerts for mentions of your brand on the Web.

Message reviewers: Registered businesses can reply directly or publicly to people who have left reviews on their site. Yelp suggests uploading a clear photo of the business owner to help personalize the message. If someone has launched a intensely personal attack against your brand, it may be better to make your response private, or not respond at all—some people simply can't be won over. Look for patterns in your reviews (customer service is lacking, for example) and look for opportunities to publicly engage influential Yelp users and offer them a second chance at a better customer experience.

View location dashboard: Businesses receive updates on the number of page views, as well as a dashboard with links to reviews and messages. It even tracks businesses with multiple locations. The interactions tracked in the dashboard include the number of mobile check-ins, calls to your business, directions to your business, photos uploaded, clicks to your website, Yelp bookmarks and Yelp Deals sold.
Follow Bill Miltenberg: @bmiltenberg