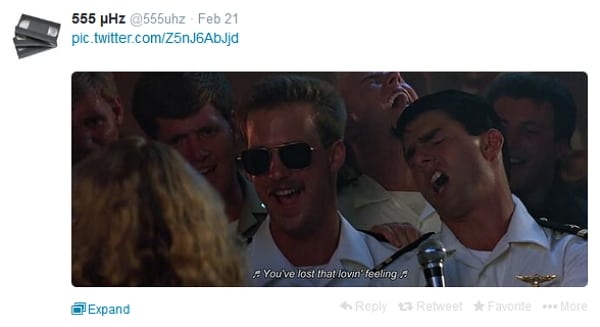 It's the kind of publicity that PR pros dream about. Professing his passion for the 1986 movie "Top Gun," a Twitter user in January started to tweet each scene of the movie, frame by frame. It is estimated that the film would have been tweeted in 7,000 images, with two posted ever hour, meaning it would have taken followers 145 days to see the entire movie, according to the Daily Mail. The account was generating nearly 7,000 followers and counting. So what did Paramount Pictures do with this wealth of free promotion? The film studio issued a Digital Millennium Copyright Act (DCMA) letter to Twitter, which resulted in the account's suspension.
"No one is authorized to copy, reproduce, distribute, or otherwise use Top Gun without the express written permission of Paramount," the letter read. "We request that you immediately remove all the Top Gun images from this website relating to the @555uhz user account. We further declare under penalty of perjury that we are authorized to act on behalf of Paramount and that the information in this letter is accurate." (The Twitter handle is an apparent reference to the number of frames a second the film was being shown on the microblogging network.)
As more and more brands engage those followers who produce user-generated content via social channels, Paramount Pictures' move is a bit of head scratcher. It seems to be another case where legal concerns trumped PR, because any communicator could see what a potential windfall the Twitter account in question could be in terms of providing social media juice for a movie that's nearly 30 years old.
Carly Yanco, director of digital strategies at Burson- Marsteller, wouldn't rule out that the Twitter user was a plant by Paramount designed to drum up interest in a long-rumored sequel to "Top Gun."
"It probably wasn't a stunt, but it would have been a good one," she said. She added: "Every brand should view evangelizers as a potential opportunity rather than a threat, especially when it comes to sharing content. This type of thing is only going to get more prevalent and acting on some tired old laws would not be the way I would advise my clients."
Yanco points to a large technology client, who she would not name, which learned that a group of photographers was using the technology company's cameras. "The company saw this as an opportunity and brought them in as brand ambassadors—that's the Holy Grail of influencer relations," she said.
HAPPY MEDIUM
Alan Marcus, a senior VP of SHIFT Communications, thinks this Twitter episode may end up as a case study on what PR managers and directors should not do when consumers piggyback on their brands.
"The studio is pretty cut and dry that this is a violation of copyright and, technically speaking, that's true, but what's missing is common sense and a little bit of flexibility," he said. "They needed to determine if [the Twitter account] was a legitimate threat to the company. To the contrary, this could have been used to drive further publicity for the movie."
Marcus recommended three tips for communicators when confronted with user-generated content:
Listen. Gauge what users are doing with your brand and before making any rash decisions see if you can put the content "through a human-terms context," Marcus said, and whether the content ultimately can have a positive impact on your brand.
Embrace. Don't fly off the handle when you learn about user-generated content, but take a measured approach. "Instead of having a trigger reaction, it's much better to read the content and respond to the individual(s)," Marcus said.
Congregate. When you assess the user-generated content, have PR reps, legal counsel and social media execs gather to craft a response. It's "finding a happy medium," Marcus said. "PR could still appreciate legal concerns and at the same time say, 'Let's take [the meme or whatever the content] offline instead of having it erupt in the public.'"
What may have sparked Paramount's ire is that the Twitter user was ostensibly lifting an entire product (every single frame of "Top Gun") rather than bits and pieces, according to Sandra Fathi, president of Affect. Still, when someone is looking to harness your content, PR pros need to nurture that relationship.
THE ÜBER FAN
"The first thing you should do is reach out to the individual to see if you can partner with him or her and allow the content to continue without running afoul of copyright laws," Fathi said.
In Paramount's case, she added, the film company could have charged the individual with a license fee of, say, $1, to give him permission to use the content for a specific purpose.
"This obviously was an über fan, who was not doing this for commercial gain, so that should have garnered a softer approach," she said. "Rather than shoot [the Twitter account] down Paramount could have shared in the benefits."
Indeed, if Paramount had taken a subtle approach some positive "earned" media would most likely follow.
"They could have the ultimate fan meet Tom Cruise or put the fan in a [simulated] flight scene from the movie," Fathi said. "There are thousands of things they could have done."
An Incoming Wave of Content
By Sam Ford, director of audience engagement at Peppercomm and co-author of "Spreadable Media: Creating Value and Meaning in a Networked Culture" (NYU Press).
In a digital age, material that once circulated "under the radar" of those companies who own the brands and intellectual property being circulated is now not only visible but has more opportunity than ever to gain audiences of its own. One example after another has demonstrated why taking a prohibitive stance regarding how audiences communicate about your content is shortsighted. Here are 3 key tips to make sure your organization doesn't overreact.
1. Make sure communications has a seat at the table. Legal counsel frequently advises pursuing the "cease-and-desist" route. Legally, in many of these cases, attorneys may be within their bounds. On the other hand, such action can often make matters worse in the court of public opinion. Communication professionals must be willing to stand up and make a case about whether a decision to quash the audience's free speech is strategic, even if it is legal.
2. Consider the potential reputational damage. Headlines about companies threatening legal action against fans who were proselytizing on their behalf, or attempting to silence criticism through trademark or copyright violation claims, often create more risk for the organization than the original work did. And, in many cases, such action also brings more attention to the work the company was attempting to silence in the first place.
3. Listen to what your audiences are saying. If your audiences are using your material to create content about your brand, consider it as an opportunity for learning. Make sure you fully understand who the creator is and why he or she created it. If the content is critical of the company, learn why. It may give you greater insight into gaps you need to fix, and better understanding of what sparked the criticism.
CONTACT:
Sandra Fathi, sfathi@affect.com; Alan Marcus, amarcus@shiftcomm.com; Carly Yanco, carly.yanco@bm.com.
---
This article originally appeared in the March 10, 2014 issue of PR News. Read more subscriber-only content by becoming a PR News subscriber today.