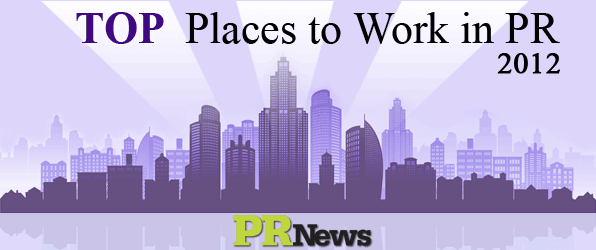 At the PR People Awards luncheon, held Nov. 29 at the National Press Club in Washington, D.C., the best in PR were honored. But not just the top people—the top places to work, as well. A total of 30 Top Places to Work were honored, spanning organizations large, medium and small. Judging criteria included work environment, "soft" benefits that set an organization apart, professional development opportunities and more.
Here's just a sampling of the worthy winners (check out the full list here):
Catholic Charities Brooklyn and Queens
Almost every one of the 11 staff members within CCBQ's communications department has been promoted during their time with the agency. Staff members within the office of development and communications routinely work together, regardless of job description, on events, media relations, marketing and public relations activities. With the 10-year anniversary of 9/11 approaching, team members combed archives, read and reviewed reports and summaries and met with administrators and staff members who were directly involved in the agency's work following 9/11. A 9/11 booklet was produced in the fall of 2011, and mailed to approximately 2,500 community residents. It's not all work though. staff members blow off steam with fun activities, including an "Iron Chef" cooking competition and a hot-wings eating contest.
Cisco Systems
In fiscal year 2012, one out of six Cisco employees were promoted, and the company will continue to focus on developing and creating career paths for all of its employees. Cisco's work/life resources, programs, and family services are designed with employee needs, desires and convenience in mind. In 2008, Cisco announced the opening of the Cisco LifeConnections Center, a state-of-the-art integrated childcare, medical center, and fitness facility. It is a place where Cisco employees and their families are treated in a special way from a typical primary care office.
Fahlgren Mortine
This midsize communications agency focuses on the growth and professional development of its associates. The agency conducts a formal performance review for each of its associates twice a year. In these reviews, associates first complete a written self-assessment, measuring factors like accountability, professionalism and internal team management. The agency also recognizes that, within the public relations discipline, not all practitioners share the same aspirations, so it offers two career tracks: the account management track and the account specialist track.
Salesforce
Deemed by Forbes as the World's Most Innovative Company in 2011 and 2012, Salesforce has 7,700+ employees working in their "#dreamjob" in its San Francisco headquarters and cities throughout North America, Canada, Europe, Japan and the larger Asia-Pacific region. The company offers videos about its open positions to get an insider's take on culture and career paths on its YouTube Channel. It rewards its employees through its one-of-a-kind Employee Stock Purchase Plan, which features a 15% purchase price discount, and provides six paid days off specifically for volunteering.
Quinn & Co. Public Relations
Quinn & Co. puts a strong emphasis on communication and feedback. In its culture, speaking up is rewarded and not speaking up is considered a detriment to the firm. Staff are welcome to propose agenda items to Executive and Leadership Committee meetings, which happen every other week for EC and once a month for LC. Supervisors and the president often provide feedback for reviews. Even the president receives feedback and gets reviewed by every staff member.
Learn about all the winners at our PR People Awards Luncheon: PR People; People to Watch; and Top Places to Work.

Follow Scott Van Camp: @svancamp01