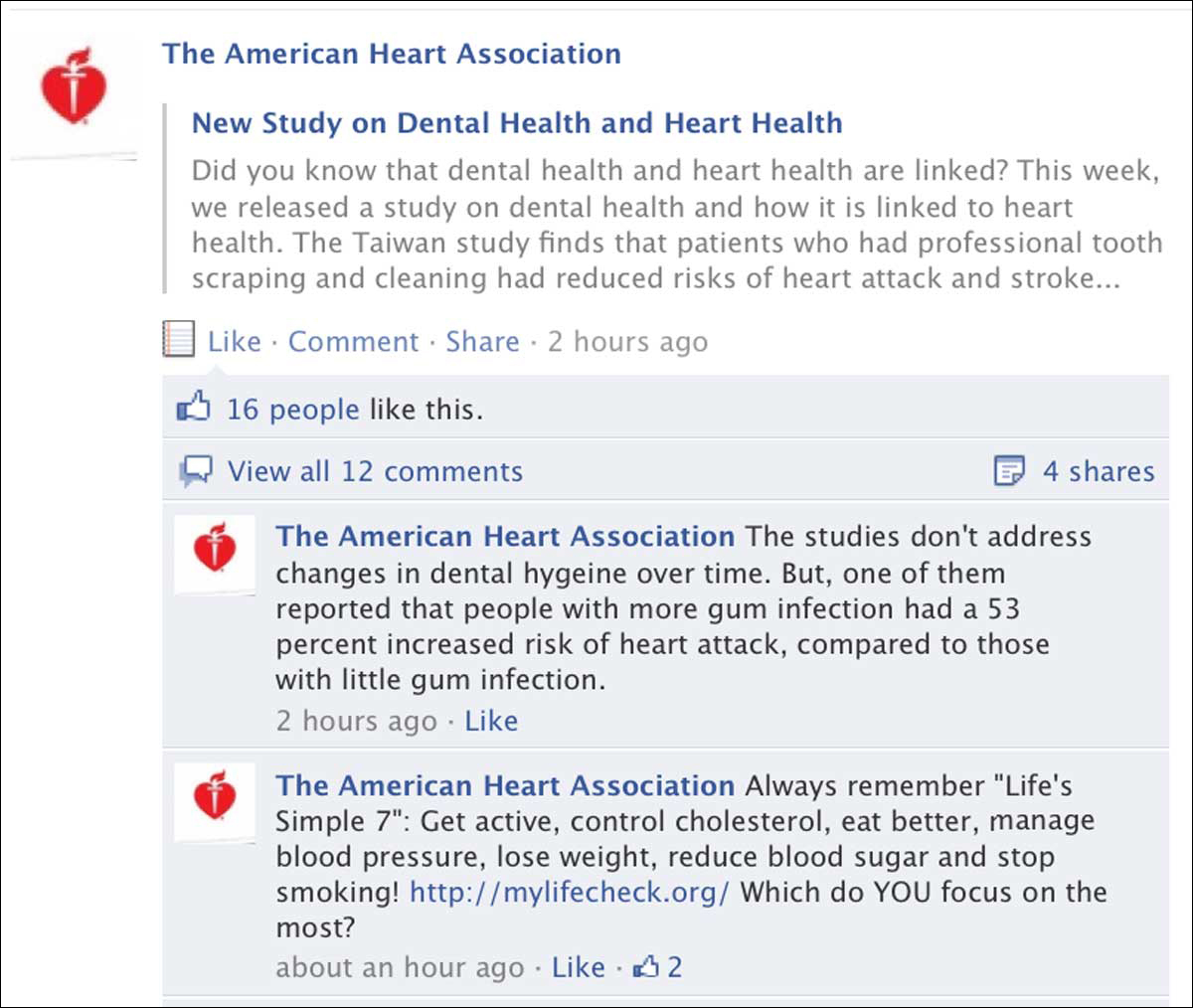 Facebook served as the digital hub for the American Heart Association's Ideal Health campaign. The top objective: Stock the social network with plenty of informative content and to create optimal engagement with the public.
Image courtesy of American Heart Association
Organization: American Heart Association
Timeframe: Jan. 2010 - June 2011
Launching a Facebook page to help meet specific organizational goals 10 years down the road might give any PR practitioner palpitations. But for the American Heart Association, such a project was designed to do the opposite. In 2010, as part of its ongoing initiative to help Americans prevent heart attacks and strokes, the association devised new definitions for ideal heart health, and developed an awareness campaign, Ideal Health, to promote them.
While research showed that 39% of Americans believe that they are in ideal heart health, less than 1% actually are. To raise awareness of the issue and create a movement to close the gap, AHA's Ideal Health aimed for a new national goal: By 2020, improve the cardiovascular health of all Americans by 20% while reducing deaths from cardiovascular diseases and stroke by 20%.
SOCIAL PULSE
The Ideal Health campaign was to be launched 100% online—with a Facebook presence leading the march to the 2020 goal.
The Facebook-specific objectives included:
• Increase awareness of the American Heart Association by reaching 80,000 fan page community members by June 30, 2011.
• Engage community members through Ideal Health messaging and questions at least four times per week.
• Maintain a high level (at least 0.2%) of engagement (posts, likes and comments) through the end of the fiscal year.
In January 2010, a four-person team led by community manager Krisleigh Hoermann launched AHA's national Facebook page as a forum for Ideal Health discussion and support. The page was specifically meant to:
• Advocate for behavior change by taking small steps.
• Promote the use of AHA's online tools.
• Engage consumers, especially household decision-makers—most often mothers—in ongoing conversation related to heart health.
TIPPING POINTS
Daily messaging and engaging questions were used to build a strong, steady base of community participation. The posts directly supported the campaign's objectives to increase awareness of AHA and encourage behavior change through small steps.
"Tips were a great way to get people engaged—I recommend always putting up tips on Facebook," says Hoermann. "Writing engaging posts is the key. You can't just leave people at the door [after they like your page]—you have to continue talking to them, answering questions and engaging them."
To further promote awareness of AHA, the team incorporated consumer-friendly science news and Ideal Health program information.
This included promoting tools on the association's Web site such as Life's Simple 7, a microsite with seven tips for heart health, and the My Life Check, a page where visitors can learn about the state of their heart and what they can do to lead healthier lives.
THE DOCTORS WILL CHAT WITH YOU NOW
AHA set up a series of four Facebook chats to involve and inspire the community to live hearth-healthy while driving traffic to the association's online tools.
Two chats offered the expertise of former presidents of AHA: Clyde Yancy, M.D., and Ralph Sacco, M.D., and were focused on heart and brain health, respectively. The third chat featured the association's CEO, Nancy Brown, and focused on how she takes small steps toward heart health despite her busy travel schedule.
The fourth chat was delivered via a USTREAM tab on Facebook. Recent high school graduate Alli Koch rode her bicycle 2,200 miles in an effort to inspire Americans to become more heart-healthy and to raise money for AHA. Her live interview focused on her training and the importance of prevention.
Each chat allowed for questions and commentary from the audience and supported the association's objective of driving community members to online tools and advocating for behavior change.
EMPOWERED VOLUNTEER BOARD
In April 2011, Hoermann and her team launched a social media volunteer board with 40 members from all ages and walks of life. The board members served as brand ambassadors and offered support to other community members who were new to the page.
"The volunteer board members have been successful in spreading the ideal health message on social media, including Facebook, and have provided great feedback on social media initiatives of the association," says Hoermann. While the association regularly responds to advice and support requests on the Facebook page's wall, the board provides an equally heartfelt, personal approach. Miller notes that this was the campaign's most successful tactic.
"Via Facebook, we recruited a diverse group—emergency medical services, heart event patients, a handful of PR pros and members of the media—who are now our external brand ambassadors," says Miller.
AD-DED TOGETHER
Additionally, the American Heart Association placed a series of ideal health-related Facebook ads that invited consumers to like the page.
"Whenever we ran ads on Facebook, we saw a spike in the number of likes. No doubt they've been effective for us, not to say that our liking increases go dormant without them, but it's not as much of a spike," says Miller.
The cost to run Facebook ads is very minimal—they are efficient and affordable, says Miller.
If given a second crack at launching the Facebook campaign, Miller says he we would have some solid, rigid guidelines for regional branches to create their own pages. With seven affiliate offices across the country and 200 local offices, many of the local AHA chapters sought to make their own page.
Hoermann wishes that they had done more messaging with these other, smaller Facebook pages, and says that AHA is working to consolidate the 180 regional pages.
Despite some fragmentation, the Ideal Health Facebook campaign accomplished the following within one and a half years of its launch:
• Earned 98,000 community members—an expansion of an average of 171 new members per day, and 52,000 active participants per month.
• The team equated the Facebook fan value for the page equaled more than $19.9 million based on a July 2010 Syncapse study that reported the average value per fan is $203.
• The page received an average of 589,000 impressions and 41,000 engagements per month.
• Facebook ads running from March 3, 2011 to June 5, 2011, delivered 13.2 million impressions and 11,000 clicks. The ads also garnered 8.1 million social impressions and almost 7,000 social clicks. ("Social" meaning a context in which a viewer saw the page from a friend who had connected with it.)
Hoermann says the Facebook campaign will continue at least through June 2013. Now with Google+ launching business pages, Hoermann says AHA has put together guidelines to get a handle on the local staff in terms of social media.
With two major social engagement platforms to leverage, conditions for success are better than ideal. PRN
[Editor's Note: To learn more about successfully leveraging Facebook for your PR initiatives, attend the PR News Facebook Conference in Washington D.C. on Dec. 1. To register go to prnewsonline.com/conferences/facebookconference-dec2011.html.]
CONTACT:
Krisleigh Hoermann, krisleigh.hoermann@heart.org; Brad Miller, brad.miller@heart.org; Joe Ciarallo, Joe.ciarallo@buddymedia.com.