Non-corporate public affairs departments utilize social media channels more than public affairs groups based in corporate settings, says exclusive preliminary data provided to PR News from the Public Affairs Council (PAC). Nearly 80% (78.7%) of '"non-corporate" PA departments (departments of a professional associations or non-governmental organization/advocacy groups) delve in social media, compared with 47.5% of "corporates" (PA departments based in for-profit companies, whether privately or publicly held).

This finding (shown in the chart at right) is not too surprising to those in the non-corporate public affairs world. "Non-corporates are using social media more, because social media doesn't cost you anything but time," says Elizabeth Engel, director of marketing at the National Association of Children's Hospitals and Related Institutions (NACHRI). But Engel also cites another key reason: "We already have built-in communities," she says. "If you're a brand, you have to come up with something fun and clever like Old Spice did in order to attract attention. Association members are already paying attention to you, so you have a built-in social media audience."

However, NACHRI's first foray into social media last year expanded that audience, says Gillian Ray, the association's director of PR. "Our effort included speaking out for kids, and that allowed us to gather activists outside of our normal outreach circles, like moms," says Ray. "That was a great payoff for us."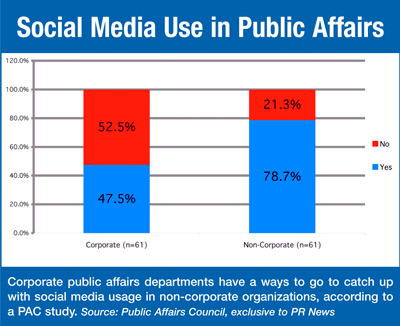 In addition, findings show that of 67% of "corporates" that do use social media reach out to journalists using the channel, compared to 50% of "non-corporates."
"This finding is particularly relevant for non-corporates, for whom traditional media outreach through press releases and media events may be more of a financial challenge," says Adam Korengold, director of research and consulting services at the PAC. He notes that about 68% of non-corporates use social media to conduct outreach to elected officials or their staff.
FREE ASPECT ATTRACTS
That's a prime example of what Korengold calls the "bang for the buck" of social media. "Those practitioners who are not familiar with social media may assume that it means spending large amounts of time (and money) to develop strategies, build infrastructure, etc.," he says. "Our survey found, however, that the typical organization spends less than 5% of the total public affairs budget on social media consultants, and many spend nothing."
LEARNING CURVE
The associations PR News talked to appear to have human resources under control. At the American Society of Anesthesiologists (ASA), a PR associate handles the social media piece, and that's 25% of the job, Dawn Glossa, the ASA's director of communications, says. "I don't think the job needs to be full time or even half the time, especially if you're smart about it," she says. "Like setting up tweets ahead of time."
One lesson learned at ASA: "When our Facebook page launched, we posted marketing messages on it frequently," says Glossa. "The members got aggravated. We don't push messages on Facebook anymore."
The PAC "Social Media for Public Affairs" survey, says Korengold, covers the following areas: organizational attributes and utilization profile; utilization in sub-functional areas described; and organizations' goals for social media. The full findings will be available in late November. PRN
CONTACT:
Adam Korengold, akorengold@pac.org; Elizabeth Engel, eengel@nachri.org; Gillian Ray, gray@nachri.org; Dawn Glossa, d.glossa@asahq.org.