Millennials are glued to their smartphones and addicted to social media. But when it comes to what's important to them, millennials share many of the same values as previous generations.
▶ What's New Is Old: Millennials tend to get a bad rap from the media. The typical millennial, born between the early 1980s and the early 2000s, is characterized as media savvy, self-absorbed and having the attention span of a gnat. That's debatable. But when it comes to appealing to Millennials' personal values, tradition trumps all, according to data provided by yconic, which tracks Millennials. Knowing Millennials share similar values as their Baby Boomer counterparts is critical when crafting a PR message. Millennials not only value friends and family (87%), they feel it's important to succeed in their education (74%) and have a rewarding career (68%). "Millennials are determined to succeed, and they see their friends and family as part of this success," said Rob Henderson, CEO of yconic. "They embody traditional, aspirational goals, not uncommon among youth."
What Millennials Value
Q. Below is a list of things that people consider to be important to their lives. Please select the top five (5) that are the most important to you personally today. n=1416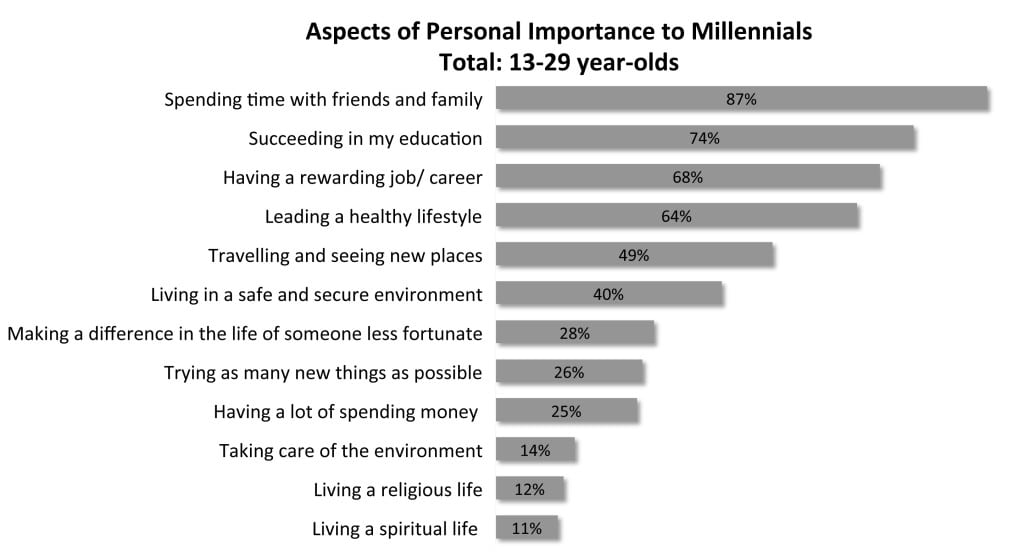 Source: yconic
METHODOLOGY: The survey was conducted online with 2,000 English-speaking Canadians aged 16 to 29, sampled from a representative panel of more than 549,000 Canadian residents. The survey was completed from Jan. 17, 2014 to Feb. 4, 2014. Since the online survey was not a random, probability based sample, a margin of error could not be calculated. The margin of error for a survey of 2,000 respondents using a probability sample is +/-2.19%, 19 times out of 20. Online surveys cannot be assigned a margin of error because they do not randomly sample the population, as outlined by the industry body, MRIA.
This article originally appeared in the November 24, 2014 issue of PR News. Read more subscriber-only content by becoming a PR News subscriber today.