Looking for a microblogging platform that goes beyond 140 characters, syncs up nicely with other social networks, looks great to the eye and is almost laughingly simple to use? You might want to take a look at Tumblr, the four-year old platform that now boasts more individual blogs (nearly 24 million at the time of this writing) than larger rival WordPress.
"Individual" is the key word here, because the platform has really come into its own as a personal communications and branding tool. But now a select few large organizations are blogging using Tumblr—particularly in the media (The Atlantic), fashion (Ann Taylor) and entertainment (MTV) industries. Yet with its ease of use and tight social media integration, Tumblr looks most promising for communicators in smaller organizations who might lack the time and resources to use a more complex platform like WordPress or Blogger.
A case in point is the UC San Diego Health Sciences department, which started a Tumblr blog in May 2011. Melanie Peters, press and media relations manager, had been using Tumblr personally for about three years. So when department heads passed down the edict to use social media more, Tumblr was a natural choice for Peters.
While Facebook and Twitter are used as more of a marketing tool for the department, Peters sees the Tumblr blog as dedicated to news. "The idea was to set up the blog, and at the same time follow media outlets on Tumblr with the hopes that they would follow us back," says Peters.
So far the strategy has worked. The blog now has almost 200 followers, including the LA Times, Christian Science Monitor, Discovery News and the Denver Post, among others.
It's that distribution of content that makes Tumblr the microblogging platform of the moment, says Michael Troiano, principal at Holland-Mark, a Boston-based strategic marketing communications firm. "We encourage our clients to think about content marketing, and that philosophy is embedded in Tumblr, as content is distributed automatically to other platforms," says Troiano.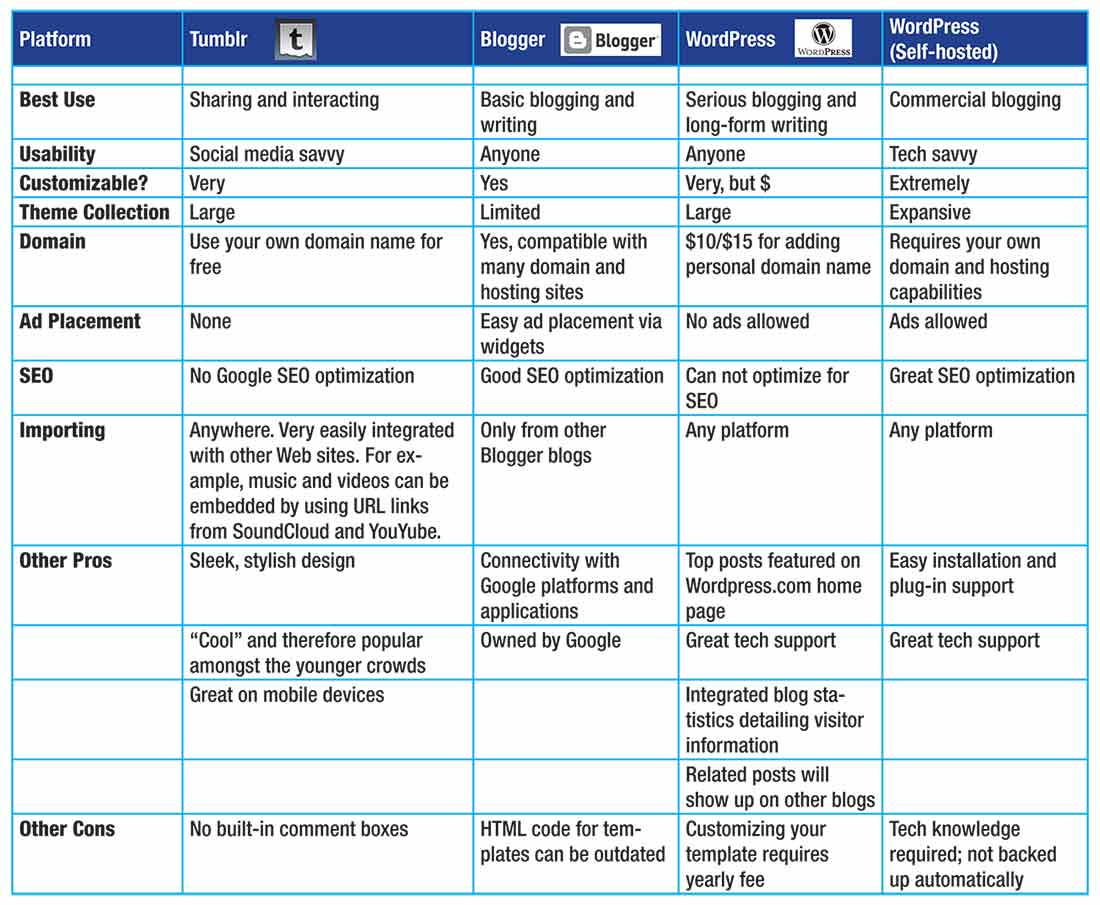 VISUAL APPEAL
Peters says another Tumblr plus is the platform's video, photo and audio posting capabilities. The university has an artist in residence, and she recently did an exhibit called "Anatomy Lesson."
Peters posted photos of the exhibit on the blog, and the LA Times re-blogged it. "Photo-centric posts get re-blogged frequently," she says.
It's Tumblr's visual capabilities, including its own look, that have drawn the fashion and entertainment industries. "Photos, graphics and video content is best suited to this type of tool," says David Erickson, director of strategy at Tunheim Partners, a New York City-based strategic communications firm.
Erickson says he's played with Tumblr in the past but found it clunky, although he plans to use the platform in the near future. In the meantime, he finds another platform, Posterous, more to his liking, because of better bookmarking capabilities.
Erickson's preferences show that a blogging platform's beauty is truly in the eye of the beholder. But there's another big reason why organizations are hesitant to add a new platform, says Christian Olsen, VP at Levick Strategic Communications. "I've already put my content eggs in the [usual] platform baskets like Facebook and Twitter, and I think that's probably the rule rather than the exception," he says. "The number of communicators that can juggle multiple social media platforms and keep them all viable is small—and they must have fewer children than I do."
Yet, platforms like Tumblr do have appeal, particularly to tech-challenged, time shortened, resource-lacking PR pros in smaller organizations.
If you're considering launching a new blog or charging up your existing one, the associated chart, compiled by PR News editors, compares features of the more established platforms Blogger and WordPress with Tumblr.
Happy blogging.
CONTACT:
Melanie Peters, mopeters@ucsd.edu; Michael Troiano, mike@holland-mark.com; David Erickson, derickson@tunheim.com; Christian Olsen, colsen@levick.com.