Will brands and organizations ever learn how to use Twitter?
The Free Application for Federal Student Aid (FAFSA) isn't just for poor people. These days, any college student—rich or poor—is likely required to fill out a FAFSA form before the start of each academic year. The filing, which many students use to report details on their financial situations in order to qualify of need-based loans, isn't just used for aid—many colleges use it for grants and scholarships as well.
In an ill-attempt at humor that fell flat and served to at least partially confirm the stereotype that FAFSA is only for poor people, FAFSA sent out the following message on Twitter Tuesday night: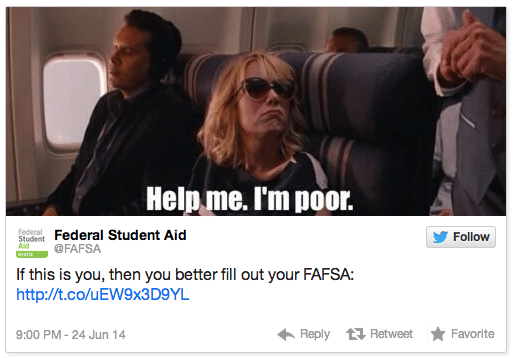 The image in the tweet is a popular meme based off of a scene in the movie Bridesmaids in which Kristen Wiig drunkenly tries to sneak into first class while flying. Many considered the tweet offensive to those who rely on financial aid to support them while earning their college degrees, and the immediate backlash against the message forced FAFSA to delete the tweet and post an obligatory apology.
Poverty isn't funny, especially among recent college graduates, many of whom are currently residing in their childhood bedrooms. A 2012 a Pew Research Center analysis of U.S. Census Bureau data found that a record 36% of 18- to 31-year-olds were living at home with their parents, the highest percentage in at least four decades.
While FAFSA is not actually responsible for giving out loans, reminding those who have used your service that they are poor—the same people who are currently shouldering the largest debt burden in history—is a terrible communications tactic. It's not just unfunny, it's also mean—never a good combination.
Follow Brian Greene: @bwilliamgreene