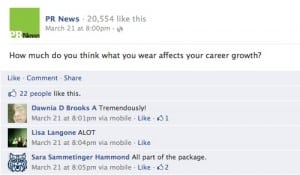 This week Facebook rolls out a new commenting system that should help communicators better manage, monitor and respond to fan and follower comments.
According to the Inside Facebook blog, key features of the new comments system are threaded conversations, the option to reply to a specific comment and a ranking algorithm that takes both positive signals (likes and comments) and negative signals (posts that attract less engagement) into account. In addition, rankings are personalized for each user, meaning that comments from people they know will appear first.
The new comment system has been in beta since November 2012; starting this week it will be available on an opt-in basis for all accounts with more than 10,000 fans or followers. The new comments are not yet available for mobile or via the API.
The ability to monitor all comments and respond to the most important ones is critical for PR pros who control their company's social channels, and the new ranking system should help communicators t o build on the listening process.
Speaking of listening to social platforms here are five tips on the subject of social listening, per Dr. Robert J. Petrausch, associate professor at Iona College's department of mass communication:
1. Listen carefully to the conversations on the Web and social media sites about your products and services and turn them into real stories for the company's communications platform.
2. Listen to what your customers and clients say about your organization and let them become your advocates and evangelists.
3. Listen to your fans online to find words and phrases that best resonate with your target audiences and stakeholders.
4. Listen to your employees and let them describe your business and products in ways that will make customers like what they hear.
5. Listen to opinion leaders and luminaries and let them guide your organization into the future.
Follow Scott Van Camp: @svancamp01