Esquire magazine had an unfortunate technical glitch with its website on Sept. 11 and responded with a disingenuous tweet that sent some people reeling.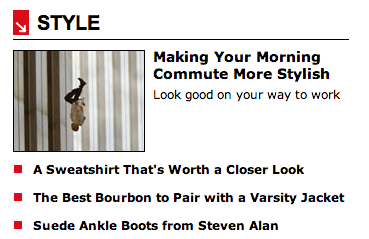 Like most media brands yesterday, Esquire was responding to the anniversary of 9/11 with its own coverage, however the image that accompanied its "Falling Man" story was mistakenly aligned next to a sidebar headline that read "Making Your Morning Commute More Stylish."
Technical mistakes like Esquire's happen more often than anyone would like. And for the most part, people usually get over this stuff rather quickly, even when the timing is especially bad.
It seems that the publication took this notion for granted when it responded to mounting complaints on Twitter. And to set everyone straight Esquire tweeted this: "Relax, everybody. There was a stupid technical glitch on our "Falling Man" story and it was fixed asap. We're sorry for the confusion."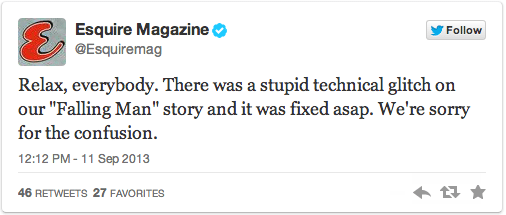 Esquire was likely trying to put out a fire by injecting some of its hip and almost-snarky Twitter personality. But its tonality was not well received, and when looking at the tweet's word choice, it's pretty apparent why.
Telling people to relax is not really a good tactic when you are in apology mode. In fact, it's not really a good thing to say to anyone who is upset, whether it's in a face-to-face or remote setting (no matter your relationship). It's condescending.
Esquire did do the right thing by explaining the situation and apologizing, but the two words that begin the tweet has been resonating with a lot of people who saw the message. Esquire would have been a lot better off either starting with the apology or the explanation with an apology, but telling people how to feel and how to respond was not the right tactic–especially on 9/11.
The lesson here for communicators is simple: every word is critical, whether in times of crisis or when things are status quo. And this is particularly true when you only have 140 characters to deliver your message. So think ahead, consider the circumstances and don't assume the audience will always "get it."
Follow Caysey Welton: @CayseyW