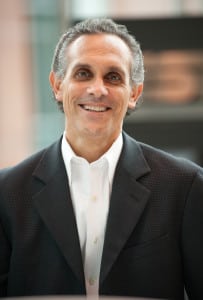 [Editor's Note: Many crowdsourcers asked about mentoring and for career tips/lessons learned from senior PR/communications executives. We immediately thought of PR News' PR Professional of the Year 2014, Chris LaPlaca, who leads ESPN's worldwide internal, public and media relations teams for the sports network's 50 business units. Most important, he's always willing to make time for us. He's been with ESPN almost since it started, in a cow field in bucolic Bristol, CT, 36 years ago.]
PRN: To what do you attribute your rise in PR?
LaPlaca: Whatever success I've enjoyed likely goes back to passion. We all work hard, and it seems we are almost never off the clock. It helps tremendously to have passion for the brand you represent, for the subject matter—in my case, sports—and, most important, the people you work with. I'm lucky to have had all those elements in place for as long as I can remember, which, for me, given the pace and volume of ESPN, sometimes only goes so far as last week.
PRN: Tell us about your mentors and mentoring.
LaPlaca: My first and best mentor was my dad, who owned a restaurant that was a true family business. I worked as a dishwasher, busboy, waiter and then bartender. I learned from him the value of hard work, teamwork, and the essence of service to others and a larger agenda than your own. Successful restaurants strive to make every experience, large and small, the best it can be for everyone they touch. I think successful communications folks do the same, be it for internal or external constituencies.
I've been blessed with many wonderful mentors in PR, including members of my current team. If I had to single out one, it would be my predecessor Rosa Gatti, who hired a raw but eager kid right out of college and taught him everything she knew, which was plenty.
Given the benefits I've received over the years, I've focused on mentoring. I am proud to say that anyone I have ever mentored still has a job. I do it formally as part of several industry organizations, and informally in my role as leader of our communications group and a leader at ESPN.
I do it because I am selfish, which is counter-intuitive, but I love to learn from other people and I've always believed I get more from the relationship than I give. Mentoring younger folks keeps my eyes fresh. To see the world through another person's eyes is a gift. In our line of work, it is critical to see all sides of an issue clearly and mentoring forces you to hone that ability by truly getting inside another's head.
There are several attractive traits mentees share. They're motivated, curious, ambitious, open. Those traits generate energy critical for the relationship to work well.
What I learned from Rosa and others is to be authentic and open. For me that means acknowledging you're not perfect, you may not have all the answers, but you do have experience you are willing to share. Mentees don't want pabulum. They want real-world stuff. I tell them stories about when I've failed, and how, and what I learned as a result. Unfortunately, I have at least one of those stories for almost any occasion. It also means having fun learning from one another. Fun makes everything stick that much better.
I also learned that you don't have to wait for the next formal meeting to be effective. Coaching in real time can really punch through. For example, I might say, "Here's a problem I have, here's what I am going to do about it, I'll let you know how it goes." And then I do.
One thing I tell mentees I will never do is to tell them what to do. I just ask them questions that lead them to their own answers. Some days I can barely navigate my own life.
PRN: Describe a risk(s) you've taken in your career and how it's paid off.
LaPlaca: Well, 35 years ago I joined a sports cable TV network nobody had ever heard of, mostly because cable wasn't a big deal. There were no guarantees but I liked the premise of the network—24-hour sports—and building it sounded like fun. So, off to Bristol I went. I took a shot because my high school basketball coach always said, "You can't score if you don't shoot. Except for you, LaPlaca—you can't score, period." Thankfully, I only remembered the first part. [Editor's Note: LaPlaca is either a glutton for punishment, an eternal optimist or both—he plays basketball to this day.]
PRN: When you hire PR/communications people, what do you look for? When speaking with a young person who wants to get into communications, what's your advice?
LaPlaca: We look for curious people who are comfortable with technology and adept at storytelling in a multimedia way since my team runs three web sites with lots of video, etc. The advice I offer? Work hard, ask lots of questions and don't automatically and completely assimilate. Be fully who you are—you've been invited to the party for what you bring. So bring it. Subjugating your point of view diminishes the value you add to the team.
CONTACT: chris.laplaca@espn.com and follow him at: @espn_chris 
Thank you to Carly Rome, assistant account executive, Anat Gerstein Inc. and student Kim Mil for suggesting this story.
This article originally appeared in the September 28, 2015 issue of PR News. Read more subscriber-only content by becoming a PR News subscriber today.