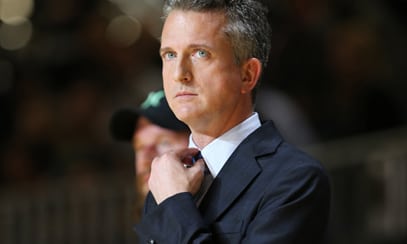 The collateral damage from from the Ray Rice-NFL scandal continues to pile up.
The latest to deal with blowback from the unfortunate, tired story is ESPN, whose "Monday Night Football" coverage makes it one one of the NFL's most important business partners.
On Wednesday, ESPN suspended Bill Simmons, one of the network's most popular columnists, for critical and obscene comments he made about NFL commissioner Roger Goodell on his Grantland.com podcast. During one of the more printable moments of the podcast, he declared: "Goodell, if he didn't know what was on that tape, he's a liar. I'm just saying it. He is lying. I think that dude is lying. If you put him up on a lie-detector test, that guy would fail."
ESPN released a statement regarding Simmons, saying, "Every employee must be accountable to ESPN and those engaged in our editorial operations must also operate within ESPN's journalistic standards. We have worked hard to ensure that our recent NFL coverage has met that criteria. Bill Simmons did not meet those obligations in a recent podcast, and as a result we have suspended him for three weeks."
But exactly which journalistic standards Simmons violated—besides a customary refraining from overusing profane language—is not clear. What is clear is that ESPN and the NFL have $15.2 billion dollar contract for "Monday Night Football" to protect.
With his comments, Simmons challenged ESPN to take disciplinary action against him, effecting the kind of insubordination large organizations fear, especially coming from a high profile employee. By goading ESPN into suspending him and having that story—not the story he told on his podcast—turn into national news, Simmons further exacerbated the NFL's troubles and and complicated its relationship with its compliant television partner.
Follow Brian Greene on Twitter: @bw_greene