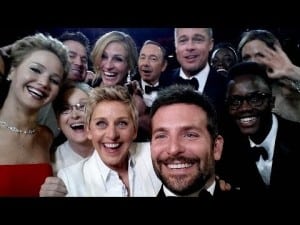 Maybe they'll make a movie about it.
Ellen DeGeneres' Oscars-night selfie was retweeted more than 3 million times, busting the record previously held by President Obama. At the same time, DeGeneres (and Samsung) may have changed the game when it comes to how brands and organizations distribute charitable donations.
The selfie, which includes 10 A-list stars, DeGeneres and Lupita Nyong'o's brother Peter, was the highlight of this year's Oscars.
It seemed like a spontaneous burst of camaraderie during an otherwise garden-variety Hollywood awards program.
Not so fast.
Samsung was an Academy Awards sponsor, but the company denied that it paid DeGeneres to take the selfie.
"While we were a sponsor of the Oscars and had an integration with ABC, we were delighted to see Ellen organically incorporate the device into the selfie moment that had everyone talking," according to the statement from Samsung. "A great surprise for everyone, she captured something that nobody expected."
Samsung is spreading the wealth from its PR riches. The company said that in honor of the selfie, it's donating $1.5 million each to two of DeGeneres' charities of choice: St. Jude Children's Research Hospital and the Humane Society of the United States.
The move could be a watershed in the annals of CSR.
Rather than have a meeting to debate the wisdom of CSR programs, brands can take a cue from DeGeneres and Samsung by practicing more real-time CSR.
That charitable softball game your company took part in? The donation should be on its way before the last pitch is lobbed. Having a silent auction to raise money for your favorite charities? There's no reason why the proceeds shouldn't be traveling to the recipients soon after the CEO thanks everyone for attending the event.
Companies tend to agonize about whether their CSR programs are commanding enough attention and enhancing the brand's visibility. Part of the problem is too much debate about the wisdom of the program. Better to demonstrate that (tangible) help is on the way for those charities in need.
DeGeneres' selfie shows there can be a quicker road to CSR donations, so long as it is paved with the best of intentions.
Follow Matthew Schwartz on Twitter: @mpsjourno1