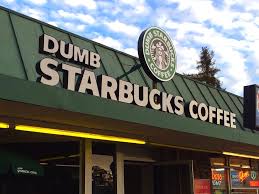 Dumb Starbucks was among the top trending stories of the last 24 hours, for sure. And while it has come and gone already, as Los Angeles County health inspectors shut the store down on Monday for operating without a valid permit, it deserves recognition from the communications perspective for several reasons.
It seems that everyone made all the right moves in this highly publicized case of brand-jacking. The comedians behind it all generated some worldwide publicity because their parody was so complete and spot on, for that matter.
And Starbucks took just the right approach. The coffee giant was dead on in trying to protect its trademarked property, but it stopped way short of the draconian approach FedEx took back in 2005, when faced with similar infringement.
Despite having no permit to pour their admittedly horrible coffee, the brains behind the faux-franchise did get the permit that was most important. Nathan Fielder, who plans to use footage of the store on his Comedy Central show "Nathan For You" ensured that production crews could film several sequences at Dumb Starbucks, as the proper permits had been filed with Film LA.
The permits were billed to Abso Lutely Productions, which has produced Fielder's show. The production company is owned by Tim Heidecker and Eric Wareheim, known as Tim & Eric, who specialize in surrealistic sketch comedy.
Starbucks, instead whipping up a tempest in a teapot and hyper-venti-latteing, took a measured approach when responding to the comedian's efforts: "While we appreciate the humor, they cannot use our name, which is a protected trademark," Laurel Harper, a spokeswoman for Seattle-based Starbucks Corp., said in an email. In fact, Starbucks never even got around to contacting Fielder, Heidecker or Wareheim, and now it's a non-issue.
The laid-back Starbucks approach was in sharp contrast to FedEx's handling of a similar copyright infringement case back in 2005. In that case, an artist was making furniture using FedEx boxes, and FedEx was not amused at all. Citing infringements of trademark and copyright laws as well as violations of the Digital Millennium Copyright Act, FedEx wanted the artist to cease and desist immediately, claiming use of the FedEx logo would confuse the public as to the source of the goods, thus violating FedEx's trademark.
Despite Stanford University lawyers taking the case pro bono, FedEx won easily. But the FedEx response left a bad taste in people's mouths more lasting than the horrible coffee at Dumb Starbucks, and it's still referenced in cases regarding DMCA and trademarks.
Follow Brian W. Kelly on Twitter: @bwpkelly